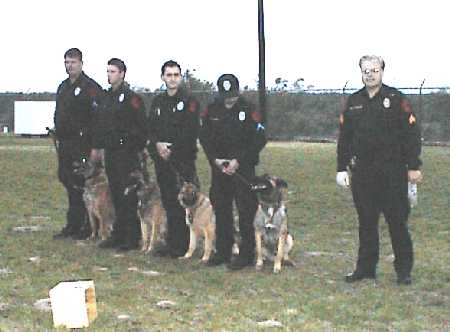 Sgt. Rowden on the right is proud of his k-9 Corp. When these people are called in; the suspects know best not to run. The four legged officers haven't been outrun yet. Yes, I said officers. Note they wear badges and are authorized to carry out their duties like their capable Partners [handlers].
All of us were impressed with the efficiency of drug detection and apprehension of suspects by all of the officers. I am certainly glad they are on our side! Thank you gentlemen!
Photo taken on site at Police training center. White box in foreground is used to hide evidence, etc for the k-9 officers to [sniff out] or find.
To Page Group #1, Another view, Group #2, Chief Jenkins, Citizens on Patrol, Lowrider, K-9 Corp.
02/08/2003 updated