Thank you Mr. Jenkins!
Update 2001: News today; is history tomorrow. Time is taking its tole on my Odessa Scrap Book. We now have a new acting police chief and Mr Jenkins has retired.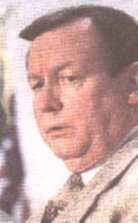 The Citizen Police Academy is only one of the many Progressive ideas implemented by the former Chief.
The concept originated in Exeter, England in 1977. Orlando, Florida was the first U.S. city to conduct a Citizen Police Academy , in 1984 and serves as the prototype for successful C.P.A.'s across the U.S.
In Texas, the first Citizen Police Academy was held in Missouri City in 1986. Academies are being held by Austin, Duncanville, Missouri City, College Station, Sugarland, Lubbock and Midland to name a few. There are almost 100 communities with Academies in Texas and they are spreading throughout the country. Odessa conducted it's first Citizen Police Academy June 10 - August 19, 1993.
It was the former Chief James H. Jenkins hope that the program will improve police-community relations at a time when it is imperative that the police and community work together to address the crime problem which affect our community.

A suggestion from one of the members of the Graduating Class. Enjoy a new Educational Adventure; fill out the application and join the next group.
To Page: Group #1, Another view, Group #2, Chief Jenkins, Citizens on Patrol, Lowrider, K-9 Corp.
Odessa Police Department
205 N. Grant St.
Odessa, Texas 79761
Phone 915 333-3641

National Association of Citizens on Patrol
Back

02/08/2003 updated