Another View of Class #13, Citizen Police Academy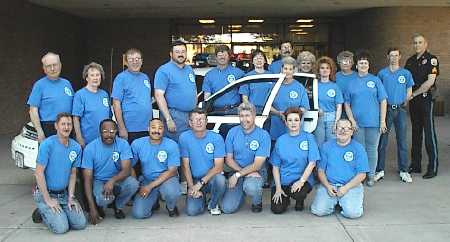 Click on above photo to see Members Listing.
Officer to the right; Sgt. Bob Hammerman; coordinator alternating with officer Sherrie Thompson. Our first class began after Introductions and Orientation with a history of Odessa's Police Department by Cpl. Terry Gettings.

Citizen Police Academy theme: UNDERSTANDING THROUGH EDUCATION. It is our hope the graduates of each Citizen Police Academy will take their new knowledge out into the community and educate others when the opportunity arises!
Disclaimer in behalf of City of Odessa and all departments: Photographs and Content are personal views and thoughts of the webmaster of this page. In no way is this sponsored by other parties or entities. Thank you for sharing my impressions of Odessa. It has been my home since 1936 and I am proud to be called an "Odessan".
To Page Group #1, Another View, Group #2, Chief Jenkins, Citizens on Patrol, Lowrider, K-9 Corp.

Group Photographs courtesy: J.T. Lawson Jr. Digital Camera HP-C20 .
Comments and corrections: please email Webmaster. 02/08/2003 update