Citizen Police Academy Theme: UNDERSTANDING THROUGH EDUCATION!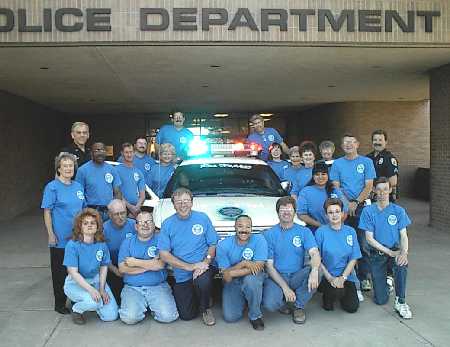 Click on above photo to see modified PolicePatrol Car [lowrider] behind us.
Thanks to former Chief of Police; Odessa is working to prevent crime before it happens.Here is an example using education to bring this about. So few workers; so much to do! Odessa conducted it's first Citizen Police Academy June 10, - August 19, 1993.
#13 Citizen Police Academy class in front of Police Station. [Graduating May 6, 1999.] These will be the volunteers of tomorrow! Graduates from the Citizen Police Academy will be considered for recruitment into the Departments's Volunteer Program.
Odessa Police Department hopes that you will become interested enough in the operation of your Police Department that you would like to volunteer some of your time to help out in different areas of the Department.

To Page Group #1, Another view, Group #2, Chief, Citizens on Patrol, Lowrider, K-9 Corp.

Group Photographs courtesy: J.T. Lawson Jr. Digital Camera HP-C20 .
Comments and corrections: please email Webmaster. 02/08/2003 update