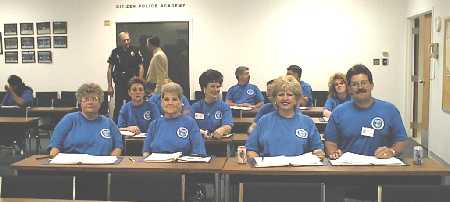 13th Citizen Police Academy in classroom. Sgt Bob Hammerman and Pastor Griffin Jones conversing in the rear. All our time is not in a classroom; check out this SCENE on one of our field trips. As a graduate of the class; I suggest you think about joining the next class. Use application listed in the menu. You won't regret it!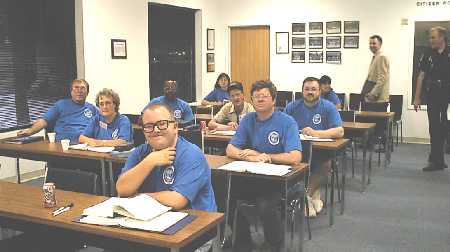 Like most students; we tend to scatter ourselves around the room; hence two photographs.
Pastor Griffin Jones in the rear of the room presented us with details on the Chaplain's Program.
Note the 8 by 10 framed photographs of the previous 12 classes mounted on the wall.
Sgt. Bob Hammerman is to his right. Photos taken prior to our class.
To Page: Group #1, Another View, Group #2, Chief Jenkins, Citizens on Patrol, Lowrider, K-9 Corp.
Back to other page.
Comments and corrections: email Webmaster.
02/08/2003 update.