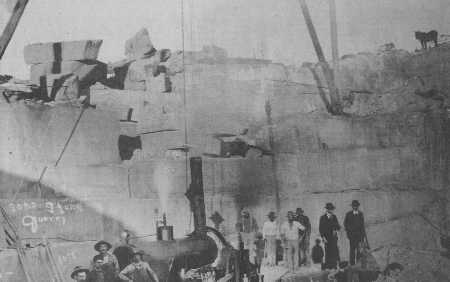 Work Stopped at the Quito quarry near Barstow just long enough for this 1895 photograph. the only person identified is Jim Miller, second from left, a quarry mechanic and the great uncle of Jim Ed Miller of Pecos.
Data from Odessa American Newspaper.
Our Ector County Court House of 1884 was build from sandstone from this very quarry.

It is a worthwhile visit to tour through Barstow and visit the remaining sandstone structures of the 1800's. The quarry ceased operation in 1912. Other than in the 1940s the quarry workers are all gone and the property is closed for visitors because of safety reasons.The 106 year old School House at Barstow is still standing at the town site. Visit the area, when you can.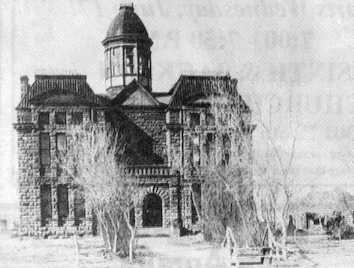 Barstow [established in 1887] Courthouse photo; before 1938.
Voted and moved to Monahans in 1938. It wasn't a happy occasion for some of the Barstow residents. Many thought the election was influenced and rigged.Photo stored: Ward County Archives in Monahans.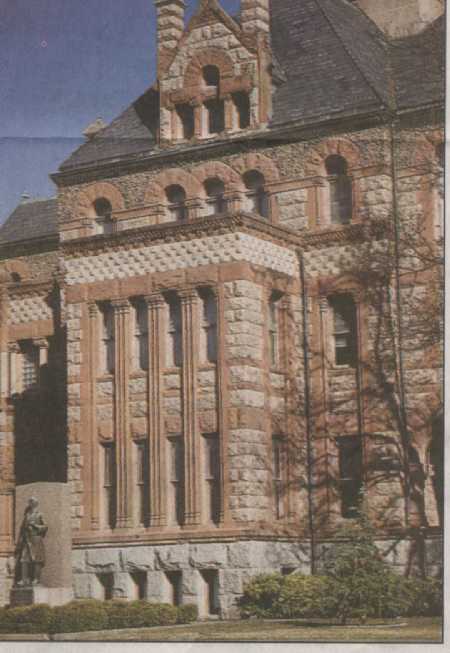 The Ellis County Courthouse in Waxahachie, stands as a momument of the sandstone from the Quito quarry. [Zane Toombs] special to the Odessa American.
Complete details in May 10, 1998 issue.
Subscribers to the paper enjoy many specials such as this; as one of the readers, I appreciate the historical items.
Courtesy, Permian Historical Society Archival Collection.
& the Odessa American Sunday May 10, 1998, page 11G.
---
Clear Page
Updated: May 15, 1998