Odessa, Texas from the beginning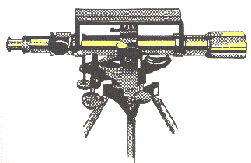 SURVEY NO. 27
.....Filed in Tom Green County, March 11, 1876. Certified by D. L. Cunningham, Surveyor of Palo Pinto County, as having been made in the field. Jas. B. Banks and E. W. Wagner were Chain Carriers.
The future site of Odessa, TX. Ector County, was put on record.
"640 acres of land in Block No. 42, Tsp 2-S, situated on the water of North concho, a tributary of Colorado River, about 12 - 1/4 miles S. 3 -1/2 E. of the 165th Mile of the Center Line of the T & P Ry. Co. Res. survey....."
Courtesy, The Odessa Exchange Club.
" Llano Estacado " the Staked Plains This is where our story begins:
The Texas & Pacific Railroad reached Survey 27 in early July, 1881.
The railroad was charted by Congress in 1871 to build a line from Marshall, Texas to El Paso. Debts, the panic of 1873, yellow fever, corporate reorganization and acquisitions took their toll and it was July, 1876 before trains reached Fort Worth. Construction halted / out of money.
In 1880, New York speculator, Jay Gould, acquired control of the line and construction resumed. Gould, a "can-do" promoter, was to control half the railroad mileage in the Southwest, New York's Elevated, Western Union Telegraph and Union Pacific. He was a principal in the notorious 1869 scheme to corner gold which caused the Black Friday panic and tarnished the Grant Administration.
Gould named as chief engineer Grenville M. Dodge, a civil engineer, former Congressman and Union General. Dodge had distinguished himself by building the Union Pacific Railroad in record time.
Dodge raised the wages of laborers to $2.50 per 16hour "hog saw" - an all- time high for railroad workers. He instructed his foreman to pick townsites that had future growth potentials.
Gould and Dodge were in a hurry. The Texas Legislature had authorized a grant of 16 sections of land for every mile of rail constructed and operating. The railroad had already earned over 5,000,000 acres of land for their construction in East Texas, but the grant was located in uncharted West Texas and was largely worthless without settlement.
The T & P was in a race with the Galveston, Harrisburg & San Antonio Railroad owned by Gould's rival Collis P. Huntington, who was also trying to reach El Paso and connect with his Southern Pacific from California. The critical point was Sierra Blanca, which controlled access to El Paso.
Dodge's crews achieved an average of a mile a day to Big Spring and then increased to two miles a day, sometimes three, across the plains. The future site of Odessa was passed on the run.
The train crew consisted of 350 laborers. Sixty mule teams dragged heavy iron rails, wooden ties and heavy equipment. Daily, the crews used 24 carloads of track, 75 cars of ties and 12 cars of water. The Irish and Chinese workers were in constant danger from snakebites and sunstroke, as well as occupational hazards such as explosions and wrecks.
The track layers had been preceded by crews erecting telegraph lines, digging wells and building depots and section houses for maintenance employees.
The work train carried its own "Box Car Town" set up on sidings for the workers. A saloon and dance hall were included, as were liquor, painted women and gamblers.
A U.S. Marshal and detachment of Black Cavalry accompanied the "Hell on Wheels", as the end of the track community was called.
Despite a remarkable construction record, Huntington won the race to Sierra Blanca and Gould was forced to enter into an agreement - still in force - for joint use of the track to El Paso.
To add insult to injury, the legislature time table was not met and the T & P did not receive any state land for their construction between Fort Worth and Sierra Blanca.
Passenger service began in September of 1881.
With out question the decisive issue in Odessa's first years centered around booze. Most likely, liquor arrived in Odessa at the very moment of the town's inception in 1881, when Texas & Pacific Railroad crews pitched a camp at Milepost 296 and doubtless had a drink to ease the day's labors. Milepost 296 eventually became the new town of Odessa.
After the railroad sold the property to the Odessa Land and Townsite company, the first efforts to prohibit liquor went into effect. Buyers of Odessa townsite lots found a clause in their deeds restricting the "manufacture or sale of spirituous, vicious or malt liquor or any intoxicating beverage whatsoever." If the clause was violated, the property reverted to John Hoge, trustee of the Odessa Land and Townsite Company.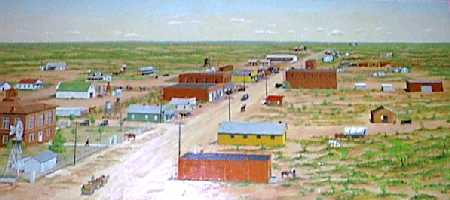 Here is Odessa around 1910 by Mr. Brown Jarrett; a Ector County Library 1957 Painting, original is located on the Second Floor:
Data is from: Glenn Justice, Ector County Library SouthWest History, Heritage of Odessa Foundation, Velma Barrett, Hazel Oliver, UTPB Archives, and many others. See complete list; lower section of Menu. A special thanks to Howell Engineering, texol.net and pbol.net for their support and encouragement from the original inception on April 13th, 1998.


Our Purpose:
is to Build a Data base of historical events in and around Odessa, Texas. Thanks, for visiting! The most confusing question is how did Odessa get its name. Data from 1884 gives us the correct answer. Read the Odessa American on line, recording history daily.
---
Webmaster:
Gareth Pollard
Copyright (c) 1998
<! count 529 on May 29, 1998 --> <! count 816 on Jun 29, 1998 --> updated 07/11/2004