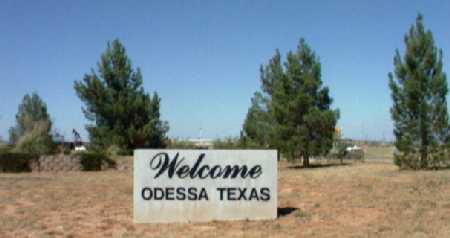 Our Greetings to travelers on I 20 Highway West.
These trees are not native to Ector County; but certainly welcome.
---
E.B. Ribble's version: "How Odessa got it's name".

Naming our City, ODESSA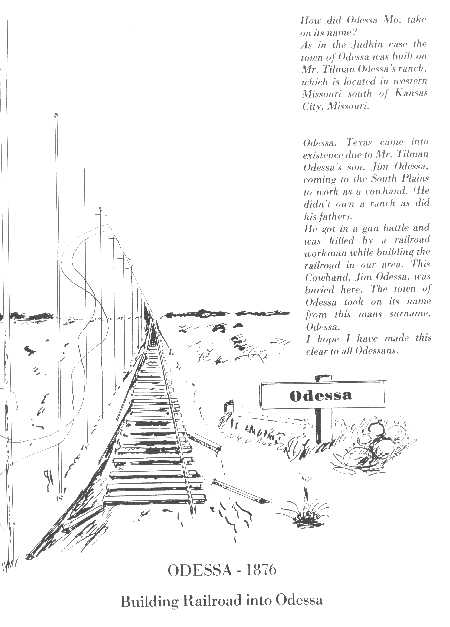 Signed: E.B. Ribble.
Courtesy: E.B. Ribble Book: LEST WE FORGET.

---
Quote from Book printed by Exchange Club in 1981:
"A rose by any other name..." Legends have persisted for 100 years about where Odessa got its name: by Russian railroad workers; for a beautiful young Indian maiden; for Jim Odessa, cowboy son of a prominent rancher who was killed in a gunfight with a railroad man; for the first settler; for a young girl who survived a wagon train massacre by Indians; for a prominent rancher's daughter....
There were no Russian workers; the Indians had been gone seven years; no records show a rancher or anyone by the name "Odessa;" the massacre occurred thirty years earlier and there is no record of a survivor....
There is a record of the founder-promoters naming it in 1884 for Odessa, Russia, wheat distribution center of the Old World, because it looked like good wheat country. There is also a published letter dated March, 1886 to the Townsite officials from Henry Thatcher, 'You gentlemen.. made the happiest choice of a name for your town 'Odessa'...(it) will be in the heart of this great wheat belt and, with adequate railroad facilities.. .the famous wheat market of the plains."
Read The complete story!
---
Clear Page
Updated: 07/11/04