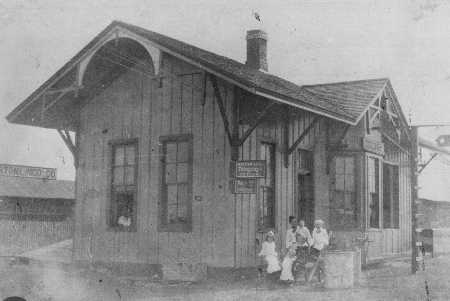 This is a rare view of the first train depot in Odessa. Sitting in front of the depot is Mrs. J.M. Frame with her children Paul, Thelma and Pete. On the left is Florence Malone and the far right, her brother Jay. This depot was destroyed by a tornado in 1889. Photo reproduced from the book "The Flavor of Odessa, 1891 - 1991.
The building was between SouthGrant and South Texas Street on the south side of the Rail Road Track. Burton Lingo Lumber Company is visible in the background. It's location was on South Grant. Our illustration of the lumber company is a drawing from E.B. Ribbles Book while we search for a photograph.
The depot that I named Depot III was built between North Grant and North Lee Street on the North side of the Rail Road Track.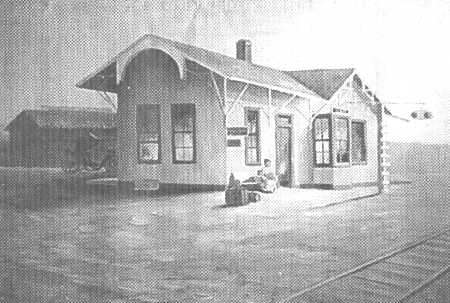 This painting by artist Dolores Petersen was on display at the Parker House Museum July, 2000. It was only one of many depicting Odessa's landscape. Thank you Delores Petersen for you support of our heritage.
Courtesy, The Flavor Of Odessa, 1891 - 1991.
---
Clear Page


Last Updated: Aug 2, 1998