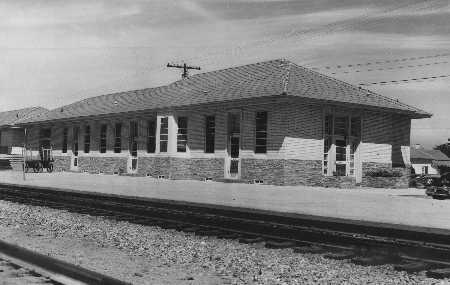 Texas & Pacific Depot, 1951
This was Odessa's last Depot. Passenger train service was discontinued in 1962. The era of the domination of the Rail Road has faded away. Odessa owes its birth to the rail road; its name; and much of its heritage. Every thing has a life; and the rail road's was too short for your author. Many European countries are enjoying the benefits of a healthy rail system today; but I have read that the feather bedding labor unions crippled our system and it never recovered. During the change over from the old steam engine which was labor intensive with numerous necessary stops for water and fuel to the diesel electric motor, the unions insisted on carrying a complete crew of employees that were unnecessary for safety or efficiency. No industry can survive without making a profit on it's investment.

Actually the diesel electric train replaced the steam engine because it was easier to maintain and cost less to service and could run much more efficiently than steam power.

But they couldn't compete with the trucks that hauled freight from cities to town running on public highways so the trains lost revenue again. Passenger service is almost extinct on the rails. Everyone flies now instead of using the train.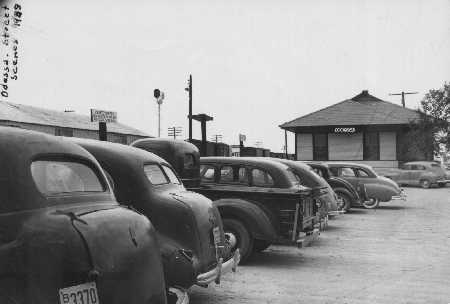 1949 cars lined up in parking lot at Odessa's last depot.
This is the last building of a progression of structures of the Rail Road from 1881. Back to our early Wooden Depot built in 1892, and destroyed by fire in 1905.
Courtesy, Ector County Library, South West History.
---
Clear this Page
Updated: July 26, 1998