Section House No. 163

A one room, rectangular building, 36 feet long, half as wide, a high roof, front porch and shed room on the back - built by a Dallas Contractor in June 1881.

Just one of hundreds built every 10 miles by the T & P. But to Odessans for all time, the first structure in their home town. A hand-dug well, telegraph poles and lines, jackrabbits, coyotes, prairie dogs and tumbleweeds, it was a lonely place without a name.

Then came a general agent and a telegraph operator, both of whom shot antelope from the front porch. And somebody started calling it " Well's Point."

The station became an area center to ship sheep, then cattle to market. Stock pens built between what is now North Adams and Dixie handled as many as 10,000 cattle.

The weekly train service was a lifeline for Odessa pioneers. It brought the world news from Fort Worth, catalog orders, staple groceries, livestock, lumber and building material for homes and barns.

People looked forward to the trains passing through; they gathered and socialized at the depot. It was fun to wave at the passing engineers and passengers and it created a stir when the train stopped to disembark a stranger.

By 1910, little Section House No. 163 wasn't big enough to handle the increased shipping. It received a "face lift" and was transformed into a more complex railway station. The two story frame depot had an office, two waiting rooms, baggage room, freight and loading dock, plus a couple of outdoor "two-holer" privies. Nearby were two houses for section hands, a coal house, tool house, a galvanized water tank and fourteen spacious stockpens.

The discovery of oil and gas in 1926 in Crane County stepped up railroad operations with the importation of drilling equipment and service supplies. Feed for hundreds of horses and mules (used to transport equipment and supply "horse power" for the cable tool drilling) was shipped in by rail. Odessa became the center of oilfield activity.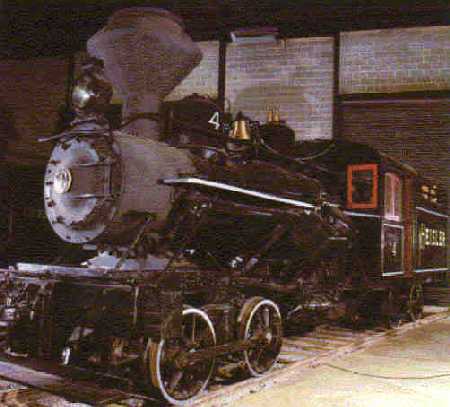 Woodburning engine of the 1880's era. This represents a steam locomotive that could have serviced the Odessa Plains before the 1900's.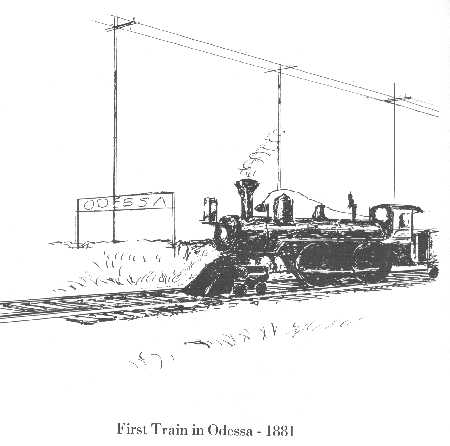 Mr E.B. Ribble's idea of the early Odessa Trains.
Courtesy, The Exchange Club.
& E.B. Ribble.