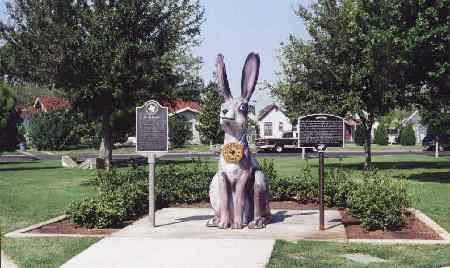 Odessa's Giant Jackrabbit located on W. 8th Steet & Sam Houston, North of Odessa's City Hall.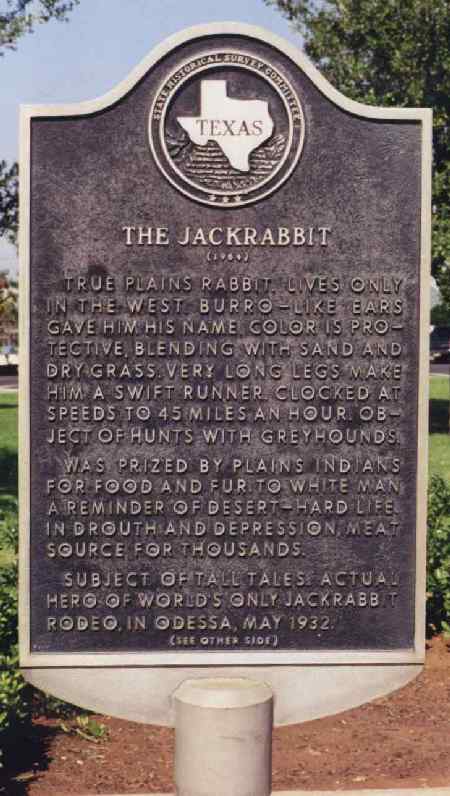 Jack Rabbit Marker on site reads:

            STATE  HISTORICAL SURVEY COMMITTEE
                        TEXAS

                   THE JACKRABBIT
                        1964
  TRUE PLAINS RABBIT LIVES ONLY IN THE WEST.  BURRO-LIKE EARS
GAVE HIM HIS NAME.  COLOR IS PROTECTIVE, BLENDING WITH SAND AND
DRY GRASS.  VERY LONG LEGS MAKE HIM A SWIFT RUNNER, CLOCKED AT
SPEEDS TO 45 MILES AN HOUR, OBJECT OF HUNTS WITH GREYHOUNDS.
  WAS PRIZED BY PLAINS INDIANS FOR FOOD AND FUR.  TO WHITE MAN
A REMINDER OF DESERT-HARD LIFE, IN DROUTH AND DEPRESSION, MEAT
SOURCE, FOR THOUSANDS.
  SUBJECT OF TALL TALES, ACTUAL HERO OF WORLDS ONLY JACKRABBIT
RODEO, IN ODESSA, MAY 1932.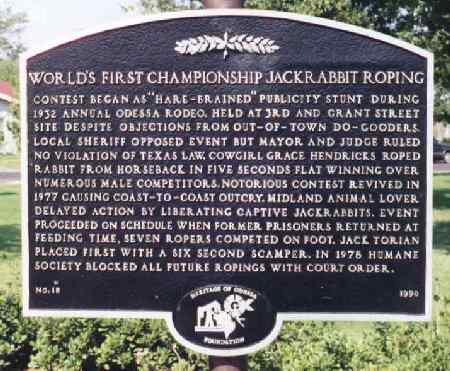 Heritage of Odessa Foundation Marker reads:

WORLD'S FIRST CHAMPIONSHIP JACKRABBIT ROPING

CONTEST BEGAN AS "HARD-BRAINED" PUBLICITY STUNT DURING
1932 ANNUAL ODESSA RODEO, HELD AT 3RD AND GRANT STREET
SITE DESPITE OBJECTIONS FROM OUT-OF-TOWN DO-GOODERS.
LOCAL SHERIFF OPPOSED EVENT, BUT MAYOR AND JUDGE RULED
NO VIOLATION OF TEXAS LAW. COWGIRL GRACER HENDRICKS ROPED
"RABBIT FROM HORSEBACK IN FIVE SECONDS FLAT, WINNING OVER
NUMEROUS MALE COMPETITORS.  NOTORIOUS CONTEST REVIVED IN
1977 CAUSING COAST-TO-COAST OUTCRY.  MIDLAND ANIMAL LOVER
DELAYED ACTION BY LIBERATING CAPTIVE JACKRABBITS.  EVENT
PROCEEDED ON SCHEDULE WHEN FORMER PRISONERS RETURNED AT
FEEDING TIME.  SEVEN ROPERS COMPETED ON FOOT.  JACK TORIAN
PLACED FIRST WITH A SIX SECOND SCAMPER.  IN 1978 HUMANE
SOCIETY BLOCKED ALL FUTURE ROPINGS WITH COURT ORDER.

NO. 12                                          1990
         HERITAGE OF ODESSA FOUNDATION

A photo of Grace Hendricks the Champion Roper is on another page.
---
Clear Photograph Page
Updated: 9/6/98