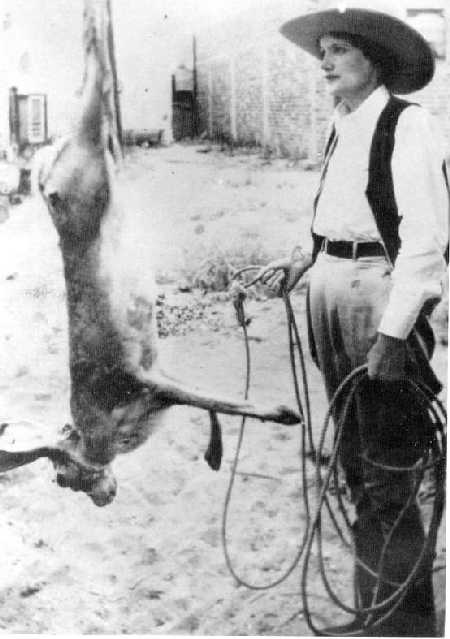 Grace Hendricks set a new record in rabbit roping at the State Convention of the American Legion in 1933. Her record-winning time of 5 seconds beat the 11 1/2 second time of the previous record holder, Sheriff Arden Ross of Loving County.
[note follow up letter; below].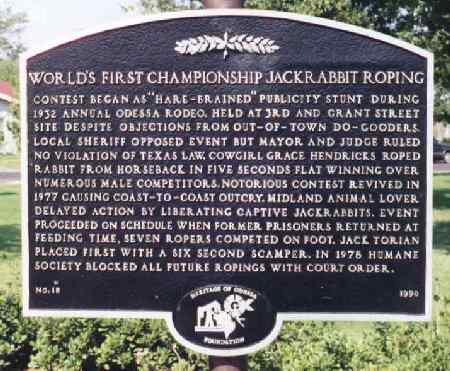 WORLD'S FIRST CHAMPIONSHIP JACKRABBIT ROPING

CONTEST BEGAN AS "HARD-BRAINED" PUBLICITY STUNT DURING
1932 ANNUAL ODESSA RODEO, HELD AT 3RD AND GRANT STREET
SITE DESPITE OBJECTIONS FROM OUT-OF-TOWN DO-GOODERS.
LOCAL SHERIFF OPPOSED EVENT, BUT MAYOR AND JUDGE RULED
NO VIOLATION OF TEXAS LAW. COWGIRL GRACER HENDRICKS ROPED
"RABBIT FROM HORSEBACK IN FIVE SECONDS FLAT, WINNING OVER
NUMEROUS MALE COMPETITORS.  NOTORIOUS CONTEST REVIVED IN
1977 CAUSING COAST-TO-COAST OUTCRY.  MIDLAND ANIMAL LOVER
DELAYED ACTION BY LIBERATING CAPTIVE JACKRABBITS.  EVENT
PROCEEDED ON SCHEDULE WHEN FORMER PRISONERS RETURNED AT
FEEDING TIME.  SEVEN ROPERS COMPETED ON FOOT.  JACK TORIAN
PLACED FIRST WITH A SIX SECOND SCAMPER.  IN 1978 HUMANE
SOCIETY BLOCKED ALL FUTURE ROPINGS WITH COURT ORDER.

NO. 12                                          1990
         HERITAGE OF ODESSA FOUNDATION

Author received the following letter by email in March 1999 from Jon Hendricks.

Concerning your information on the history of Odessa, I found a few errors that I felt needed to be brought up concerning the 1932 jackrabbit roping in which my grandmother Grace Hendricks was the one who roped the jack- rabbit in 5 seconds flat!!!! She told me many years later that she had gone to the event dressed up since she had been to a tea.
She was convinced to enter the event, which she did and walked to the center of the arena to prepare to rope the rabbit. She told us that she saw the rabbit heading for her so she roped it in self defense!!! She was not on horse back that I remember from her stories.
She was also the first woman Justice of the Peace in Ector County.
Please feel free to contact me if I can provide more info!!!
Sincerely,
Jon Hendricks
Read all the details in Glenn Justice "Odessa, An Illustrated History".
Courtesy, Permian Historical Society Archival Collection.
---
Back to Jackrabbit page


Clear Page
Updated: May 4, 1998