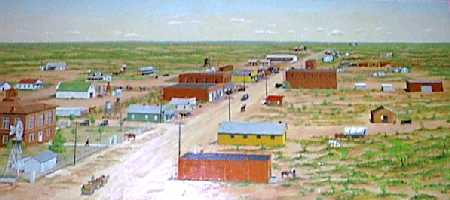 Odessa around 1910 by Mr Brown Jarrett. Many of these building's photographs will be found throughout the history pages. Enjoy!

This view is looking south on Grant Street. First building on left side of street is County Jail , Windmill and Ector County Court House. Last three building on left side of street is Train Depot, Burton Lingo Lumber Co. and Charles & Lucy White's home.

The large stone building on the right side of the street near the locomotive headed east with the train, is the Citizen Bank Building. The Henderson Drug is across the street to the East.
---
Clear Page


updated: 1/27/99