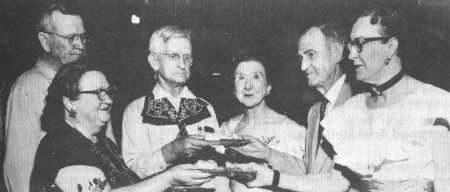 Winners of the dance contest at the Founder's Day Celebration held a the Ector County Sheriff Posse Club house. Left to right: R.T. Cotton Waddell, Mary Lee Waddell, Will Martin, Willie Martin, and two unknown winners. May 22, 1958.

A few details about Mrs Willie Martin:
When Willie and her parents arrived in Odessa in 1902, "everyone in town met the train to see who was getting off." The new arrivals proved to greatly enhance the musical fare of Odessa.

Willie could play 5 instruments at the age of 12; the violin, mandolin, piano, clarinet and guitar. Along with "Lillie McKnight we played in the town band. Will Martin played in the band too. We were married when I was only 16 years old."

Willie and her husband Will loved to give dances in their home at Christmas time. Tea cakes and punch were served. Willie Martin will long be remembered for the joy she shared through her music. She taught violin and piano lessons for many years.

Courtesy: The Flavor Of Odessa, 1891-1991; editor:Ann Sherburn.
The Heritage of Odessa Foundation.
---
Clear Page
Updated: May 23, 1998