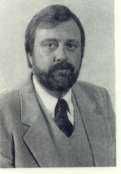 A native of west Texas and resident of Odessa, Glenn Justice received his bachelor's and master's degrees from the University of Texas of the Permian Basin.
While working as a staff writer on the latest edition of the Handbook of Texas a massive encyclopedia of Texas history published by the Texas State Historical society, Justice wrote more than 125 articles on the Permian Basin and Big Bend history. Justice is also author of Revolution on the Rio Grande: Mexican Raids and Army Pursuits, 1915-1919.
Justice is a recipient of the Permian Basin Historical Association Graduate Fellowship. He has served on the Ector County Historical commission and sits on the board of the Permian Basin Historical Society.
Justice has presented numerous papers to such organizations as the West Texas Historical Association and the Texas State Historical Association, and has taught at Midland College and at UTPB.
Courtesy, "Odessa, An Illustrated History"; by Glenn Justice.
Visit his web site; "RimRockPress.com" for other books and data.
---
April News Item
Prude Ranch history going to Sul Ross archives May 4, 1998.

The Prude family of Fort Davis will present a book that details a century of history at Prude Ranch to the Sul Ross State University library and archives May 4, 1998 at 2:00 PM.

Cattle and Dudes: A Family History of Prude Ranch, 1897-1997 by Glenn Justice was published in 1997 by Rimrock Press of Odessa.

The Public is invited to attend the presentation which will be in the Archives of the Big Bend on the second floor of the Bryan Wildenthal Memorial Library.

The Prudes have maintained a long-time relationship with Sul Ross. John G. Prude, who celebrated his 94th birthday in February, received bachelor's master's degrees at Sul Ross. He was also an assistant professor in the Education Department and served as directory of teacher placement.

See complete details in April 23, 1998 "Jeff Davis County
Mountain Dispatch".
---
Clear this Page


Last Updated: 02/08/2003