Old Citizens National Bank located on corner of Second and Grant in Odessa. If you look closely there seems to be three people on the roof.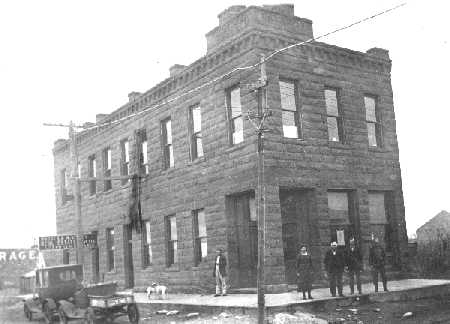 A.W. Moore, Mrs Virginia Plummer, W.F. Bates, Henry Pegues, Cal Smith.
Building to the rear now a Garage. The horse and buggy has now been replaced by automobiles. Sign on rear door of Bank, "Rhodes & McKinney Real Estate, Cattle Loans, Cement Tanks". Joe Rice has the garage open in 1915. It's possible this photo was taken in that year.
Street light: Bulb hanging down with flat reflector about 18 inches in diameter suspended below crossarm on utility pole.
Note possibly a home made Pick Up parked on Second Street. Metal chair by Judge Moore has bent or damaged legs. The Bench Seat on other side of the two dogs seems to be in very good condition. Notice the rocks in the street. The tree in front of the building is now absent.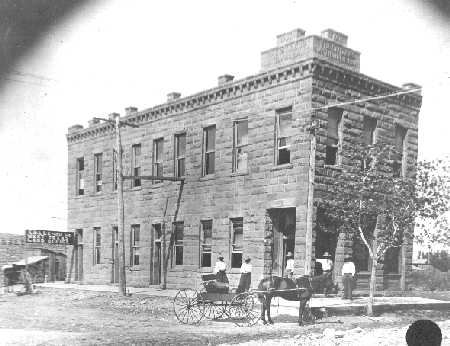 Citizen National Bank organized March 29th, 1906. Closed April 13, 1931. Location on second and Grant in Odessa, Texas.
People: E.B. Lee, Frank Bates, Uncle Dodge McGee, Will Martin, Wickliffe Skinner. Mr Bates bought the horse "Billy" from Maude Rice. Billy was well known around Odessa as the horse that had a combination 'gate' between a pace and a trot.
You can see the sign on rear of Bank building, "E.B. Lee and Co. West Texas Land Office".
In this Photograph the building to the rear has Stable painted on it. A sign on second floor in the second window from the front "Abstract".
This Photograh seems to be an earlier scene than the photo above. The street has ample supply of cliche rock. And they didn't lay any more side walk than was necessary.
Courtesy: Ector County Library South West History.
photographs not dated.