Ratliff Stadium located North East Odessa; near intersection of North Grand view & East Yukon Road.
West Texas Relays Historical Marker is now located in south entrance driveway.
Text reads:
---
WEST TEXAS RELAYS
50TH ANNIVERSARY
1944-1994
NATIONALLY KNOWN AS ONE OF TEXAS' BEST TRACK AND FIELD EVENTS. THE FIRST INVITATIONAL WAS HELD APRIL 1, 1944 AT ODESSA HIGH SCHOOL'S DIRT PRACTICE FIELD. SEVEN AREA HIGH SCHOOLS COMPETED IN 14 EVENTS. IN 1949 THE MEET MOVED TO A NEW CINDER TRACK AT BRONCHO (W.T. BARRETT) STADIUM AND WAS RE-NAMED THE WEST TEXAS RELAYS.
THAT YEAR THE ODESSA CHAMBER OF COMMERCE JOINED THE SCHOOL SYSTEM AS CO-SPONSOR. COMPETITION EXPANDED TO INCLUDE ATHLETES FROM AREA JUNIOR AND SENIOR HIGHS. STATE AND NATIONAL JUNIOR COLLEGES AND UNIVERSITIES.
IN 1983 THE RELAYS MOVED TO RATLIFF STADIUM'S FASTER ALL-WEATHER TRACK. OVER 1500 COMPETITORS FROM ABOUT 50 SCHOOLS NOW PARTICIPATE IN THE-ANNUAL TWO-DAY MEET.
NO. 27 1994

HERITAGE OF ODESSA
FOUNDATION
---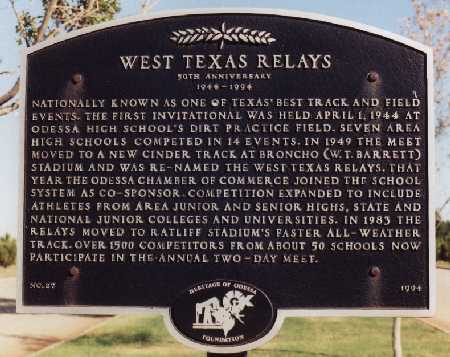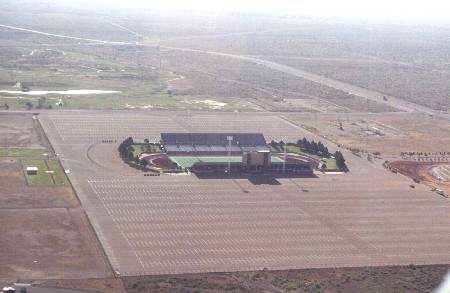 Aerial view of Ratliff Stadium in 1998. The West Texas Relays Historical Marker has been cropped from this photograph. Yukon Road and Grandview are located in upper right part of this picture. This view is from the West with the Ratliff Public Golf course in upper left corner.

Clear Page


updated: 11/12/98