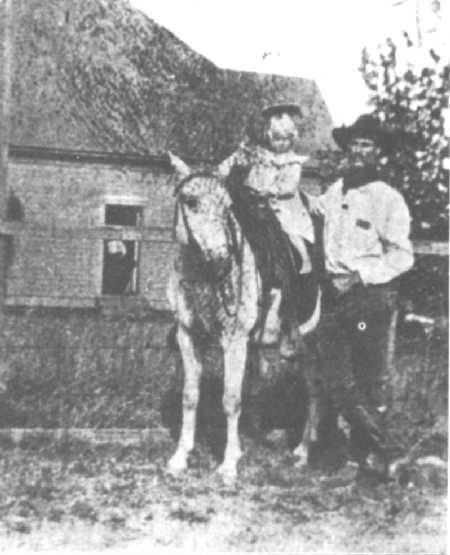 Willfore's father, Will Whittenburg, is pictured here holding his niece, Mary Ratliff Hurt McCullom. Will lived in Odessa from about 1903 until 1930 and served on the School Board for several years.

Willfore Whittenburg:
Willfore is a true Odessan. He was born on February 26, 1912 on the "homeplace where my dad grew up and started by my grandparents in 1874. I've been a rancher or a cowboy all of my life." The Whittenburg ranch [old headquarters] is northwest of Odessa.

"My mother was a good gardener. We had lots of vegetables to eat and some to dry. We had fruit trees, and in years of plenty we canned and dried the fruit. I can remember spreading a sheet on the porch roof and spreading out the fruit to dry in the sun. The vegetables-pinto beans, blackeyed peas and okra-dried on the vines and we canned the tommatoes."

Christmas for Willfore held many special memories. "I remember that Mary McCollum for Christmas took a mesquite limb and put jelly beans on the thorns for decoration." Mary Ratliff Hurt McCollum is Will's cousin. She moved to Odessa in 1904.

Willfore also recalled Christmas in 1933 when he was 21 years old. "I was working for Gid Crenshaw on the JL Johnson ranch. We started about the first of December to make everyone a Christmas present. This was the First Christian Church Christmas tree. We had a young man that was fresh out of T.C.U. and he loved horseback riding so he got a stick horse. Real Fancy.

Mrs. Crenshaw made some rag dolls out of old socks. Mr. and Mrs. Crenshaw had killed 2 hens for Christmas dinner so we blew up two sacks and put the feet inside sticking out and tied a string around it. Everyone had a big time. I was Santa Claus. The young preacher's name was Gordon."


Courtesy: The Flavor Of Odessa, 1891-1991; editor:Ann Sherburn.
The Heritage of Odessa Foundation.
---
Clear Page
Updated: May 29, 1998