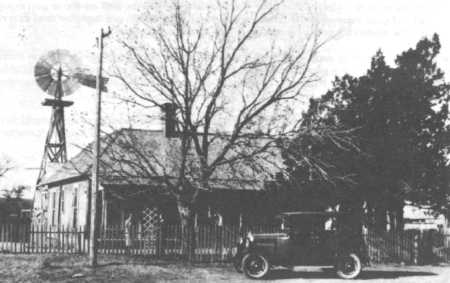 The Waddell Home, 321 North Lee Street in 1926.

On July 1, 1926, the Cotton Waddells bought a house located on N. Lee. On this lot was a pecan tree which was estimated to have been planted by a squirrel hiding nuts in the late 1890's. This house was furnished with water from a windmill and elevated tank in the back yard. The windmill tower had extensions added to the legs in order to get above the tank for the wind to turn the wheel more efficiently. This house was cut in two in 1936 and each part was moved to vacant lots to the south. After remodeling was completed the family lived in the south part until a new house was constructed in 1937. The older houses were rented until the end of WWII.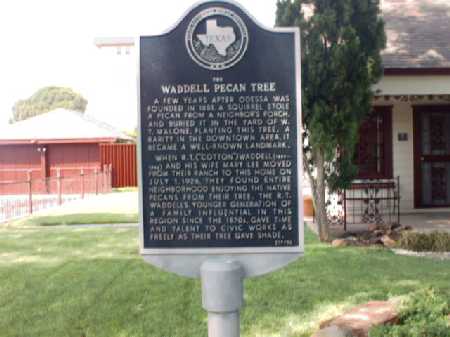 The historical Marker at 321 N Lee Street reads:

                 THE WADDELL PECAN TREE 

 A FEW YEARS AFTER ODESSA WAS FOUNDED IN 1881, A SQUIREL STOLE
A PECAN FROM A NEIGHBOR'S PORCH, AND BURIED IT IN THE YARD OF W.
T. MALONE, PLANTING THIS TREE. A RARITY IN THE DOWNTOWN AREA, IT
BECAME A WELL-KNOWN LANDMARK.

 WHEN R.T.("COTTON") WADDELL (1889-1964) AND HIS WIFE MARY LEE MOVED
FROM THEIR RANCH TO THIS HOME ON JULY 1, 1926, THEY FOUND ENTIRE
NEIGHBORHOOD ENJOYING THE NATIVE PECANS FROM THEIR TREE.  THE R.T.
WADDELLS, YOUNGER GENERATION OF A FAMILY INFLUENTIAL IN THIS
REGION SINCE THE 1870'S GAVE TIME AND TALENT TO CIVIC WORKS AS
FREELY AS THEIR TREE GAVE SHADE. 
                                                (1972)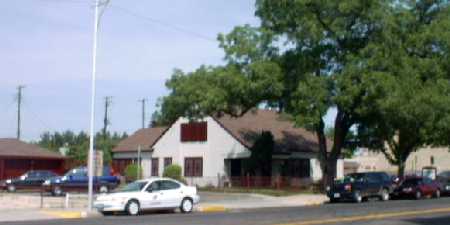 This is the new 1937 Waddell home. No windmill today. Note size of trees in 1998. Structure now occupied by attorney, Ruff Adhers.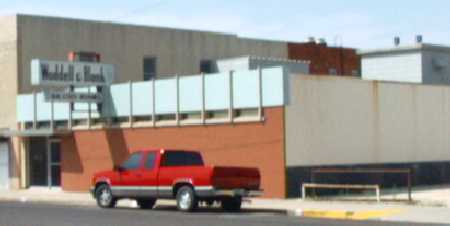 The old "Real Estate and Insurance" office was directly south of the house.1998 Photo.
Courtesy, Permian Historical Society Archival Collection.
The Heritage Of Odessa Foundation, Anne Sherburn.
---
Clear Page
Updated: May 15, 1998