Velma Barrett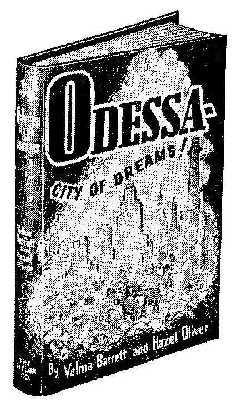 Co Author of "Odessa, City of Dreams" with Hazel Oliver.
Miss Velma Barrett, a native Texas, has lived most of her life in the Western part of the state, attending Abilene Christian College and teaching in Colorado City and Amarillo. During 1843-44, she was the post librarian at the Amarillo Army Air Field.
Listening to stories of homesteading in the wide open spaces has been one of Miss Barrett's hobbies for the 7 years she has been the librarian of the Ector County Library. Besides selling library service to Odessa patrons, she enjoys her home with her mother, her friends, and her community. She was elected "First Lady of Odessa" for 1949.
She will be long remembered for the "Odessa, City of Dreams" book of the pioneers, published in 1952 by the Naylor Company.

Courtesy: Odessa, City of Dreams.

---
Clear Page
Updated: June 13, 1998