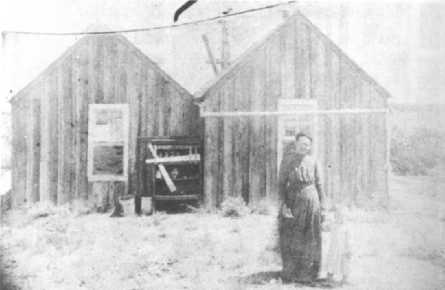 1908.
Alice Tripp with her eldest son, Jack, at their first ranch, the old King Ranch in Crane County. Alice Susan Bates married Tom Tripp, a cowboy on a neighboring ranch in 1905. Together they contributed greatly to the growth of Odessa as a ranching community and a oil production center. Part of their contribution was their family of successful sons, Jack, George, Earl, Bill, Lea and Jay Mac.

Alice Susan Tripp
Alice Susan was the mother of the Tripp family of successful sons. She chose to move to what was in the 1900's a pretty primitive town to establish a decent home for her family and they all did well for themselves.

Like most early ranchers, the Tripps were victims of the foibles of Mother Nature and the national ecomony. When the depression hit in 1929, they lost everything. Undaunted, Tripp started a firm as a general dirt contractor in the oilfields. Beginning with a fresno and a team, by 1941 he built the firm up to the second largest of its kind in West Texas.

Tripp served his community well as Hide and Animal Inspector and as County Commissioner. During his 3 terms in office, which began in 1934, a new courthouse was built along with other civic improvements including Odessa's first public swimming pool.

Courtesy, Permian Historical Society Archival Collection.
The Heritage Of Odessa Foundation, Anne Sherburn.
---
Clear Page
Updated: May 15, 1998