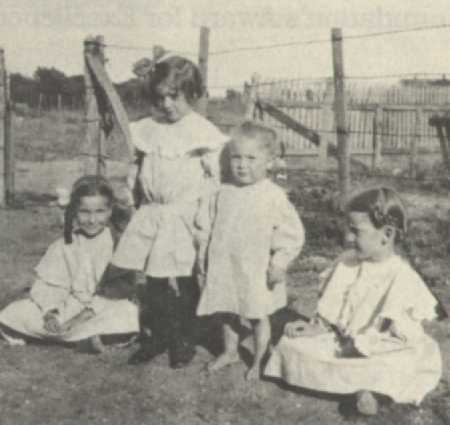 Children of John D. and Bettie Hogge Thomas. 1906.
Their father was sheriff of Ector County from 1896 to 1904. He met an untimely death in 1912 from meningitis during the epidemic that hit Ector County.

Thomas was known as a peacemaker, though he stood for no roughness. Before settling in Odessa he served as deputy US Marshall with his uncle who was a Marshall in Kentucky. Thomas was a Texas Ranger based in El Paso under Captain Rogers. Thomas was not adverse to "bending" the law. Although the founders of Odessa made land sales conditional on liquor not being for sale in the town, Sheriff Thomas joined forces with Millie Williams and established one of the first saloons in Odessa. It took seven years for the prohibitionists to finally garner enough support to get the saloon closed; well at least they got the name changed to Molly and John Pool Hall.

It should be noted that Sheriff Thomas was not the only law enforcement officer in Odessa's history who was selective in his enforcement of the law. Gene Graham won by a landslide with the campaign promise, "if I am elected sheriff, you can have all the fights you want because I'll never interfer." And he kept his word. Whenever it seemed that trouble was brewing, he slipped quietly away.


Courtesy: The Flavor Of Odessa, 1891-1991; editor:Ann Sherburn.
The Heritage of Odessa Foundation.
---
Clear Page
Updated: May 29, 1998