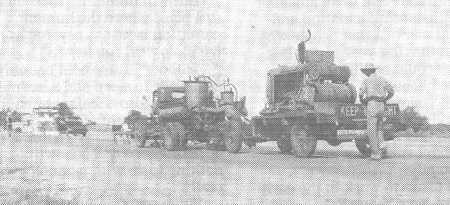 TexDot Photo. from their archives.

Exact date unknown. Reproduction from Odessa American paper of 1/1/2000 showing Texas Department of Transportation workers. Can anyone identify the vehicles and their date of mfg.?

The Bankhead Highway runs East and West through Odessa and parts of it are in use at the present date in various areas. It was Highway 80 but now is called Interstate 20. Running East from Odessa the location was North of the T. & P. Railroad. However going west; it crossed the track at Grant street and continued on the South side.

How many of you readers remember the two lane highway and the hours to drive from Fort Worth west to El Paso?

The highway designation changed through the years:
From State Aid road No. 1 to Highway 1; to Bankhead Highway; to U.S. Highway No. 1; to Highway 80; and then along about 1969 to Interstate 20.

Senator Bankhead efforts in 1916 on through 1920 earned the Highway the name Bankhead! His promotion made it all possible.

Glen W. Larum article in the Jan. 1, 2000 issue of the Odessa American has extensive details of the early days of West Texas roads and highways.

---
Clear Page


Updated: 02/08/2003