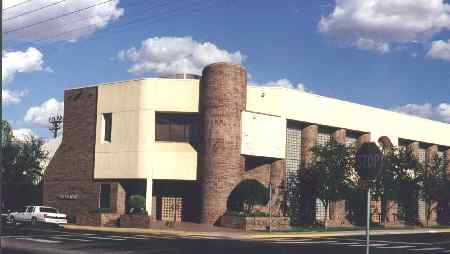 This is just one of the many beautiful structures of the Temple Baptist Church. The Historical Marker is located North of this building across the street.
TEMPLE BAPTIST CHURCH
50TH ANNIVERSARY CELEBRATION
SERVICES WERE FIRST HELD IN 1943 AT 200 N. HANCOCK. IN 1947 THE SMALL CONGREGATION OF 47 WORSHIPPERS MOVED TO 1000 N. TEXAS. FOR THEIR SANCTUARY, MEMBERS RENOVATED A 30' BY 60' TIN AND CINDER BLOCK LAUNDRY BUILDING. BY ITS 50TH ANNIVERSARY, CHURCH'S COMPLEX OF SEVEN STRUCTURES OCCUPIED ALL FOUR CORNERS OF 10TH AND TEXAS, AND 10TH AND JACKSON. AVERAGE SUNDAY ATTENDANCE REACHED 1700 DURING 1993.
PASTOR CURTIS THORPE ASSUMED THE PASTORATE IN 1947 WHEN HE AND HIS FAMILY MOVED TO ODESSA. SERVING FOR 37 YEARS AS MINISTER, THORPE RETIRED IN 1984. HE WAS SUCCEEDED BY HIS SON JERRY.
NO. 36 &nbsp &nbsp &nbsp &nbsp HERITAGE OF ODESSA FOUNDATION &nbsp &nbsp &nbsp &nbsp 1993
---
Clear Page
updated: 10/20/98