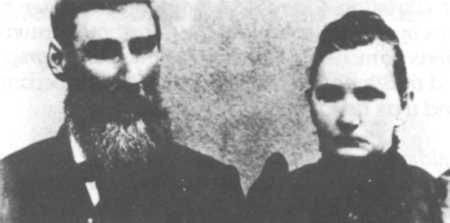 Jim and Sallie Strain.
Both of the Strains were devout Presbyterians who helped foster a strong religious and moral atmosphere in Odessa. They, like the early Methodist who settled in Odessa before the turn of the century, worked towards building their new hometown into a Utopian city. Jim was a County Commissioner when the new red stone courthouse was built in 1906. Auntie Sallie was Mrs. Paul Slator's grandmother and Uncle Jim was Henry Pegues' great uncle.


Courtesy: The Flavor Of Odessa, 1891-1991; editor:Ann Sherburn.
The Heritage of Odessa Foundation.
---
Clear Page
Updated: May 29, 1998