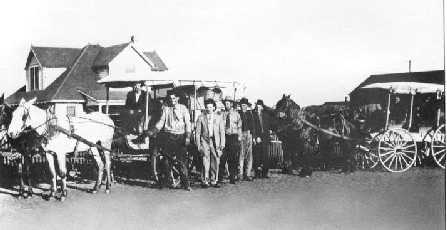 MONAHANS, GRAND FALLS AND FORT STOCKTON STAGE COMPANY.
"Good teams and careful attention to all," reads the ad in the FORT STOCKTON DAILY PIONEER newspaper for May 5, 1911, "Stage run seven days in the week." The stage left Fort Stockton at 7 A.M. and arrived in Monahans at 6:30 P.M. with a dinner stop at Grand Falls, Holman Hotel in the background. (Zoe Sewell Coll.)

Monahans is about two water stations west of us, but this photo is worth enjoying. The stagecoach from Monahans to Fort Stockton normally loaded at the Texas & Pacific depot in Monahans. They were equipped to accomodate as many as 25 passengers.

Courtesy, Paul Frame Scrapbook / The Petroleum Museum, and Glenn Justice.
---
Clear Photograph Page
Last Updated: Saturday, April 21, 1998