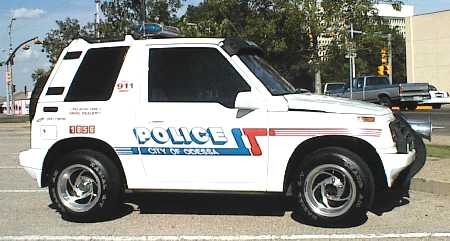 View of one of the City of Odessa Police Department, Public Relation automobile.
It was rescued from a drug dealer. Last use was on the National Night Out. This is an annual event encouraging neighbors to get to know each other; with the hopes of decreasing crime. Thirteen parties involving 23 Neighborhood Watch groups were held August 3, 1999 in Odessa, Texas.
Your editor visited half of these neighborhood parties with McGruff the crime dog. There are some photos on another page. He is quite popular with the ladies and all the children! Everyone waved as we drove down some of Odessa's busy streets going to the Neighborhood parties.
Results show there is less crime in a neighborhood where all the neighbors know each other and keep in touch. Our data base from the daily reports from the Odessa American column "blotter" confirms this completely. This is updated almost daily to help you have a summary of Odessa's activities.
Now would be a good time to start a Neighborhood Watch in your block! Think About It!
Ask Cpl. Terry Gettings at the Police Department for details.
Webmaster
Updated 02/08/2003