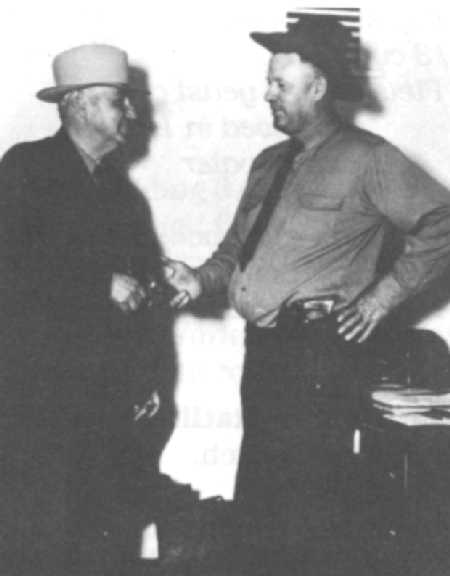 W.H. Rhodes and Sheriff Reeder Webb.

Betty Lou Pickerton came to Midland to teach school in 1927. She married Reeder Webb, sheriff of Ector County in 1929 and moved into the lower floor of the red brick jail building located near the courthouse. They lived there for 8 years until the building was remodeled for the County library in 1938.

Prisoners had to go through the Webb's living room and bedroom to go upstairs to the jail, which was not always convenient. The Webbs moved to an apartment in the new courthouse when it was completed in 1937.

The John Webb family came to Odessa in 1910 from Arkansas in a covered wagon. The six boys served in WW I, Reeder in the Rainbow Division in France. He served as Ector County sheriff for 18 years (1923-1941). There was a great deal of crime at that time during the boom days in the area. Odessa was the oil well supply center and focal point for the drilling industry. The population grew rapitly as did the crime.


Courtesy: The Flavor Of Odessa, 1891-1991; editor:Ann Sherburn.
The Heritage of Odessa Foundation.
---
Clear Page
Updated: May 29, 1998