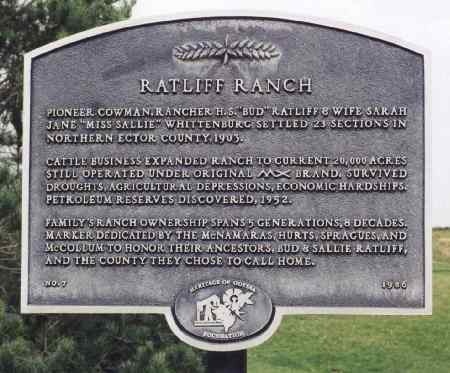 RATLIFF RANCH
PIONEER COWMAN, RANCHER H.S. "BUD" RATLIFF & WIFE SARAH JANE "MISS SALLIE" WHITTENBURG SETTLED 23 SECTIONS IN NORTHERN ECTOR COUNTY, 1903.
CATTLE BUSINESS EXPANDED RANCH TO CURRENT 20,000 ACRES STILL OPERATED UNDER ORIGINAL mx BRAND. SURVIVED DROUGHTS, AGRICULTURAL DEPRESSIONS, ECONOMIC HARDSHIPS, PETROLEUM RESERVES DISCOVERED, 1952
FAMILY'S RANCH OWNERSHIP SPANS 5 GENERATIONS, 8 DECADES, MARKER DEDICATED BY THE McNAMARAS, HURTS, SPRAGUES, AND McCOLLUM TO HONOR THEIR ANCESTORS, BUD & SALLIE RATLIFF, AND THE COUNTY THEY CHOSE TO CALL HOME.
NO.7--------------------------------------------1986
HERITAGE OF ODESSA FOUNDATION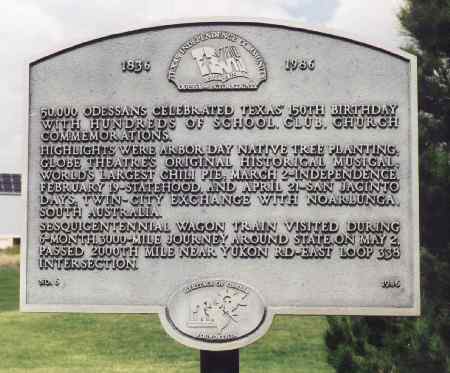 1836----------------------------------------------1986
TEXAS INDEPENDENCE COMMUNITY
ODESSA--ECTOR COUNTY

50,000 ODESSANS CELEBRATED TEXAS' 150TH BIRTHDAY WITH HUNDREDS OF SCHOOL CLUB, CHURCH COMMENORATIONS.

HIGHLIGHTS WERE ARBOR DAY NATIVE TREE PLANTING; GLOBE THEATRE'S ORIGINAL HISTORICAL MUSICAL; WORLDS LARGEST CHILI PIE, MARCH 2-INDEPENDENCE FEBRUARY 19-STATEHOOD, AND APRIL 21-SAN JACINTO DAYS; TWIN-CITY EXCHANGE NOARLUNGA, SOUTH AUSTRALIA.

SESQUICENTENNIAL WAGON TRAIN VISITED DURING 6-MONTH 3000-MILE JOURNEY AROUND STATE ON MAY 2, PASSED 2000TH MILE NEAR YUKON ROAD-EAST LOOP 338 INTERSECTION

NO.6----------------------------------------------1986
HERITAGE OF ODESSA FOUNDATION
---
Clear Page
updated: 9/10/98