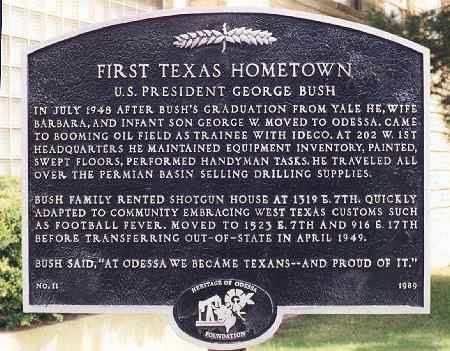 FIRST TEXAS HOMETOWN

U.S. PRESIDENT GEORGE BUSH

IN JULY 1948 AFTER BUSH'S GRADUATION FROM YALE HE, WIFE BARBARA, AND INFANT SON GEORGE W. MOVED TO ODESSA. CAME TO BOOMING OIL FIELD AS TRAINEE WITH IDECO. AT 202 W. 1ST HEADQUARTERS HE MAINTAINED EQUIPMENT INVENTORY, PAINTED, SWEPT FLOORS, PERFORMED HANDYMAN TASKS. EH TRAGELED ALL OVER THE PERMIAN BASIN SELLING DRILLING SUPPLIES.

BUSH FAMILY RENTED SHOT GUN HOUSE AT 1319 E. 7TH. QUICKLY ADAPTED TO COMMUNITY EMBRACING WEST TEXAS CUSTOMS SUCH AS FOOTBALL FEVER. MOVED TO 1523 E. 7TH AND 916 E. 17TH BEFORE TRANSFERRING OUT-OF-STATE IN APRIL 1949.

BUSH SAID, "AT ODESSA WE BECAME TEXANS--AND PROUD OF IT."

NO. 11 &nbsp &nbsp &nbsp &nbsp HERITAGE OF ODESSA FOUNDATION &nbsp &nbsp &nbsp &nbsp 1989

More details at Presidential Museum Heritage site.
---
Clear Page
updated: 9/20/98