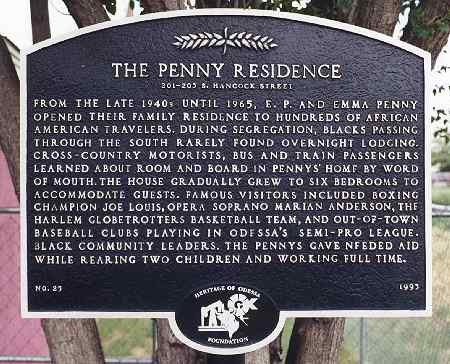 THE PENNY RESIDENCE
201-203 S. HANCOCK STREET

FROM THE LATE 1940'S UNTIL 1965, E.P. AND EMMA PENNY OPENED THEIR FAMILY RESIDENCE TO HUNDREDS OF AFRICAN AMERICAN TRAVELERS. DURING SEGRETION, BLACKS PASSING THROUGH THE SOUTH RARELY FOUND OVERNIGHT LODGING. CROSS-COUNTRY MOTORISTS, BUS AND TRAIN PASSENGERS LEARNED ABOUT ROOM AND BOARD IN PENNY'S HOME BY WORD OF MOUTH. THE HOUSE GRADUALLY GREW TO SIX BEDROOMS TO ACCOMMODATE GUESTS. FAMOUS VISITORS INCLUDED BOXING CHAMPION JOE LOUIS, OPERA SOPRANO MARIAN ANDERSON, THE HARLEM GLOBETROTTERS BASKETBALL TEAM, AND OUT-OF-TOWN BASEBALL CLUBS PLAYING IN ODESSA'S SEMI-PRO LEAGUE. BLACK COMMUNITY LEADERS, THE PENNYS GAVE NEEDED AID WHILE REARING TWO CHILDREN AND WORKING FULL TIME.

NO. 25 &nbsp &nbsp &nbsp &nbsp HERITAGE OF ODESSA FOUNDATION &nbsp &nbsp &nbsp &nbsp 1993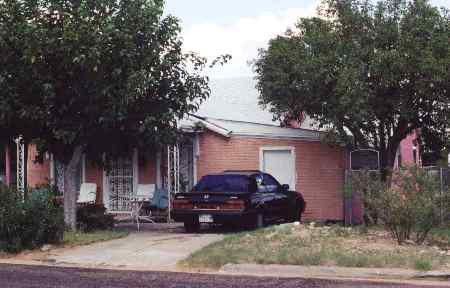 201-203 South Hancock.
---
Clear Page
updated: 9/20/98