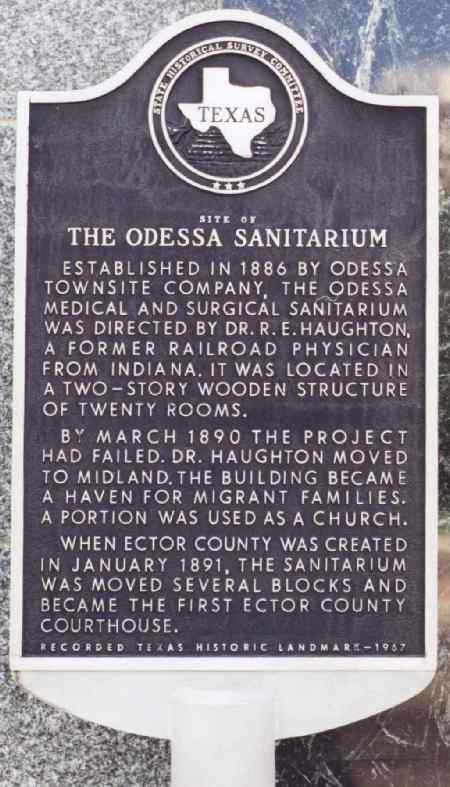 STATE HISTORICAL SURVEY COMMITTEE
TEXAS

SITE OF
THE ODESSA SANITARIUM

ESTABLISHED IN 1886 BY ODESSA TOWNSITE COMPANY, THE ODESSA MEDICAL AND SURGICAL SANITARIUM WAS DIRECTED BY DR. R.E. HAUGHTON, A FORMER RAILROAD PHYSICIAN FROM INDIANA. IT WAS LOCATED IN A TWO - STORY WOODEN STRUCTURE OF TWENTY ROOMS.

BY MARCH 1890 THE PROJECT HAD FAILED. DR. HAUGHTON MOVED TO MIDLAND. THE BUILDING BECAME A HAVEN FOR MIGRANT FAMILIES. A PORTION WAS USED AS A CHURCH.

WHEN ECTOR COUNTY WAS CREATED IN JANUARY 1891, THE SANITARIUM WAS MOVED SEVERAL BLOCKS AND BECAME THE FIRST ECTOR COUNTY COURTHOUSE.

RECORDED TEXAS HISTORIC LANDMARK - 1967

Here's a photo of the Sanitarium building.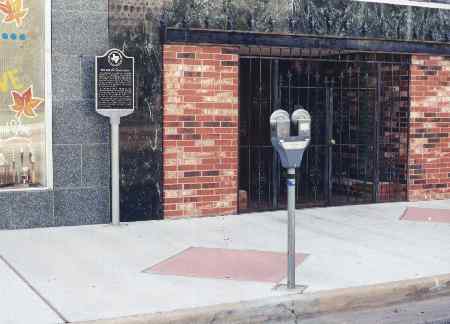 Located West of the Ector County Court house; directly across the street, on North Grant facing East.
[Noting the content of the Marker; the location is faulty. My thoughts it should be further north of the Rail Road.]
This court house web page has a photo of the building with more history of the Sanitarium.
---
Clear Page
updated: 9/20/98