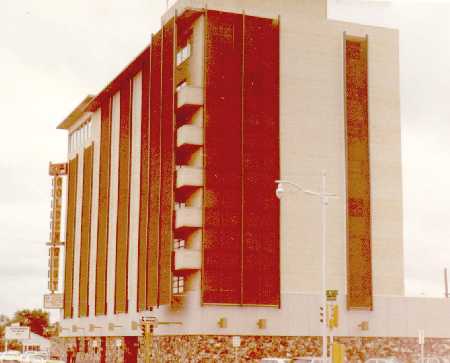 1958, Inn of the Golden West Hotel.
The Lincoln Hotel was purchased by new owners and renamed "Inn of the Golden West". Many modifications and improvements were made.
These were exciting years. The Golden Rooster was moved from the basement of the Bank Building on 8th and Grant Avenue to the Inn of the Golden West and located on the top floor. This was a large improvement, from a location with no view to the best one in Odessa, Texas. They featured a live band and other entertainment through out the year. If you lived in Odessa during this era, I'm sure you enjoyed the facilities.
Large scenic windows were created and the view was a favorite of all the customers. Look at the left of the photograph on the top floor for an example. We have other pages showing some of Odessa's Buildings taken in the late Fifties from that very location.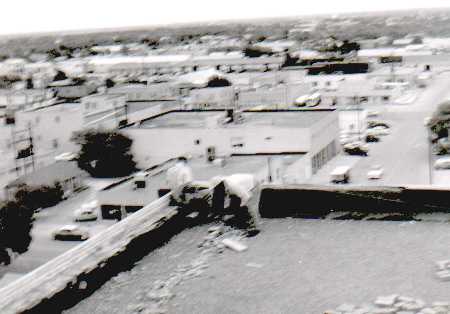 Roof work under way to build the Starlight room for the Golden Rooster; 1956.
Lincoln Avenue is in the background. The Greyhound bus station was located on 2nd and Lincoln; photo shows a bus parked beside the building. Further in the background to the left warehouses can be recognized located along the Santa Fe Railroad.
Photos Courtesy: Fred Cordola

---
Clear Page


Updated: 02/08/2003