Elizabeth and Chunky Hendrick, eating snow and examining icycles from an over flowing water tank. The old smokehouse is to the left of the photograph. 1924 on the family property at 6th and Texas Streets.

Hazel Hendrick:
Hazel Hendrick came to Odessa in 1928 from Pecos, and "immediately I like the people. It was such a small town and everyone was friendly." She first worked for Paul Moss in his Law Office. Then she worked in the County clerk's office under Mr. Carl Akin, "especially when he wanted to leave for vacation."

Her first regular job for the county was in the combined offices of sheriff and tax assessor collector. The office was divided in 1934 when the population and workload warranted. She remembers "we kept the money in a cigar box when I began work under Lawrence Webb. Those were the 'good old days'." Hazel was District Clerk until her retirement in 1974.

In 1930 Hazel married "Son" B.C. Hendricks, Jr. He was the son of Bernard and "Lizzie" Hendrick.

His father Bernard was 18 years old when he came to West Texas to work on his brother's ranch. Tired of cowboying, he moved into the city and over the years operated a livery stable, a hauling business, a general store and a mortuary.

In 1908, Bernard married Lizzie Massey wheo came to Odessa as a young girl. She remembers riding a horse along the way to Odessa from her home in Merkel and helping her brother herd cattle.

The Hendrick family lived for 40 years at the corner of Texas and 6th Streets and raised their four children. Now a bank parking lot, a tree from their yard, planted at the birth of their son, Chunky, is still going strong.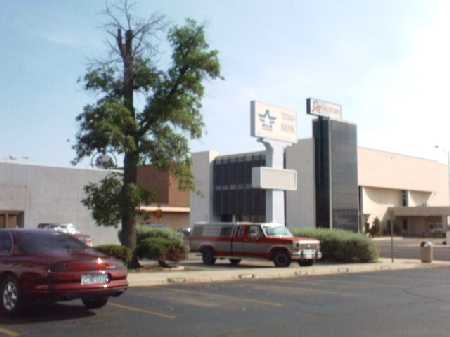 1998 view of the tree in the parking lot, Scott Theatre, and First American Bank in the background.
Courtesy, Permian Historical Society Archival Collection.
The Heritage Of Odessa Foundation, Anne Sherburn.