Historical Marker is located next to City Hall [ one block west of blinking traffic light ].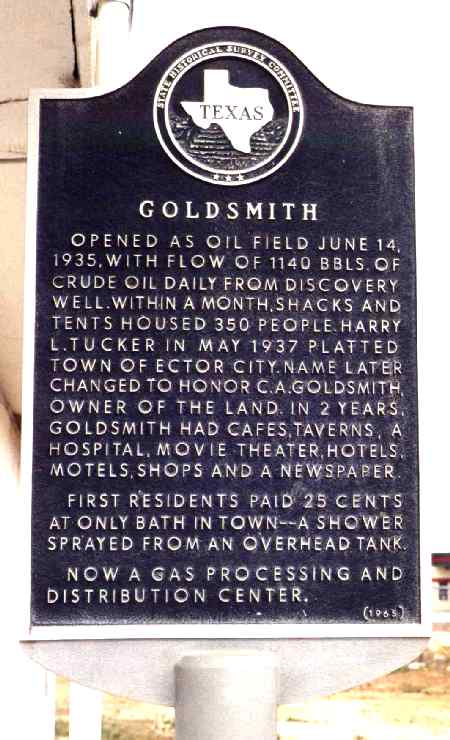 STATE HISTORICAL SURVEY COMMITTEE


GOLDSMITH
OPENED AS OIL FIELD JUNE 14, 1935, WITH FLOW OF 1140 BBLS. OF CRUDE OIL DAILY FROM DISCOVERY WELL. WITHIN A MONTH, SHACKS AND TENTS HOUSED 350 PEOPLE. HARRY L. TUCKER IN MAY 1937 PLATTED TOWN OF ECTOR CITY. NAME LATER CHANGED TO HONOR C.A. GOLDSMITH OWNER OF THE LAND. IN 2 YEARS, GOLDSMITH HAD CAFES, TAVERNS, A HOSPITAL, MOVIE THEATER, HOTELS, MOTELS, SHOPS AND A NEWSPAPER.
FIRST RESIDENTS PAID 25 CENTS AT ONLY BATH IN TOWN--A SHOWER SPRAYED FROM AN OVERHEAD TANK.
NOW A GAS PROCESSING AND DISTRIBUTION CENTER.
1965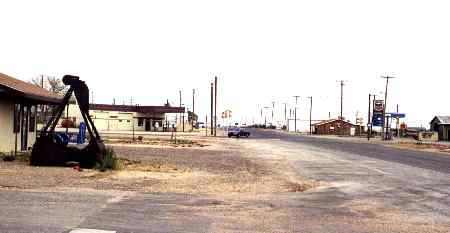 Street scene in August 1998.
City Hall is to our left; outside this picture.
---
Clear Page
updated: 9/10/98