Glass Pharmacy, West side of 214-A West 5th Street, 1946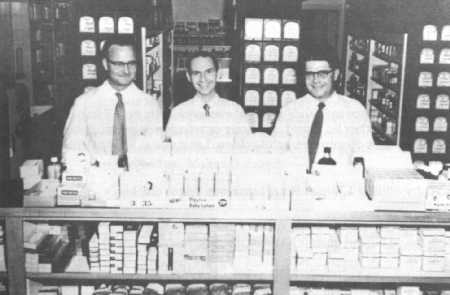 Glass Pharmacy: Left to Right: Alton Nelson, Wade Hornsley, and James A Fowler. 1949
Glass Pharmacy was first located at 214-A West 4th Street in a building owned by Felix Jones. It was the first Professional pharmacy of its kind in Odessa. There were other places to get medicines and drugs, but these establishments did not have a pharmacists on duty most of the time. During the late 40's, just about anyone who had an inclination could fill prescriptions. The inspector came around about every three to four years, took a quick look and went on his way.
Both Glass and Fowler graduated from the University of Texas and were members of the American College of Apothecaries. This full fellowship of membership in ACA was the highest honor a retail pharmacist could obtain.
Mr Glass was working for the Parke-Davis pharmaceutical company prior to WWII. After his discharge, he read about Odessa's growth and prosperity in TIME Magazine. With encouragement from Dr. Emmett Headlee, Glass decided to open a full service pharmacy.
The first prescritpion was compounded on April 2, 1946. Dr. Chiles was the prescriber. The prescription was for Mrs G.V. Trout and purchased for $1.00. Business at the end of that first day grossed $5.60.
James A. Fowler:
The Fowlers began their long standing involvement with Odessa when James A. Fowler went into partnership with Mr. E.W. Glass of Glass Professional Pharmacy in Demember 1946. At that time the Pharmacy had been opened 9 months.
The Partners decided not to change the name to reflect both partners because of the lack of funds for purchasing new prescription lablels, stationary, signs etc. Even after the death of Mr. Glass in 1970, Mr. Fowler chose to continue with the traditional name. The time the decision was not based on finances but because the name Glass Pharmacy meant professionalism, trust, caring and experience.
Courtesy, Permian Historical Society Archival Collection.
The Heritige Of Odessa Foundation, Anne Sherburn.