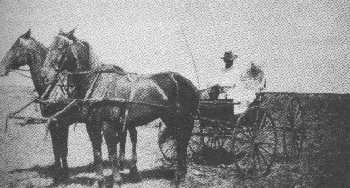 Mr. and Mrs. Gee J. McMeans and their son, Walter.

McMeans was Ector County sheriff in 1905. His deputy sheriff was Homer R. Henderson, a Texas Ranger who had been sent to "calm the land claiming disputes in Ector County" at the turn of the century. He successfully returned peace at the steps of the Courthouse, where fights frequently broke out among those waiting to file land claims. Henderson never did return to the Texas Rangers. He married and settled down in Odessa, continuing a career of "maintaining the peace".

Courtesy, Permian Historical Society Archival Collection.
---
Clear Page
Updated: May 5, 1998