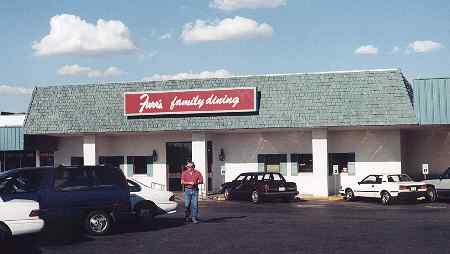 Odessa's First Cafeteria.
This Heritage Marker is located inside entrance, at Furrs in shopping Area at 31st and Andrews Highway. Other Furrs Cafeteria is North of University Blvd. and Grandview Street.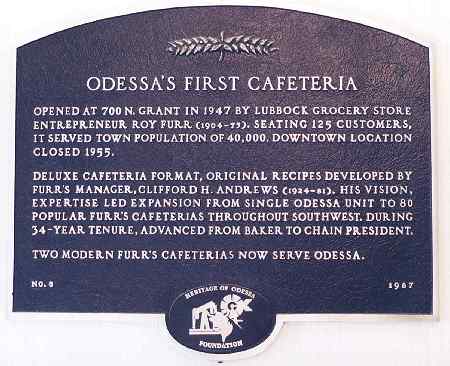 ODESSA'S FIRST CAFETERIA
OPENED AT 700 N. GRANT IN 1947 BY LUBBOCK GROCERY STORE ENTREPRENEUR ROY FURR (1904-75). SEATING 125 CUSTOMERS, IT SERVED TOWN POPULATION OF 40,000. DOWNTOWN LOCATION CLOSED 1955.
DELUXE CAFETERIA FORMAT, ORIGINAL RECIPES DEVELOPED BY FURR'S MANAGER, CLIFFORD H. ANDREWS (1924-81). HIS VISION, EXPERTISE LED EXPANSION FROM SINGLE ODESSA UNIT TO 80 POULAR FURR'S CAFETERIAS THROUGHOUT SOUTHWEST. DURING 34.-YEAR TENURE, ADVANCED FROM BAKER TO CHAIN PRESIDENT.
TWO MODERN FURR'S CAFETERIAS NOW SERVE ODESSA.
NO. 8 &nbsp &nbsp &nbsp &nbsp HERITAGE OF ODESSA FOUNDATION &nbsp &nbsp &nbsp &nbsp 1987
---
Clear Page
updated: 10/21/98