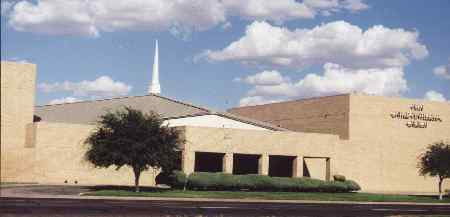 First United Pentecostal Church located Between Texas and Jackson Street and East 19th Street. This Eastern view is from N. Texas Street.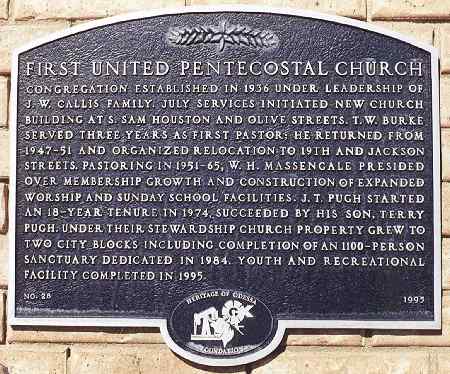 FIRST UNITED PENTECOSTAL CHURCH
CONGREGATION ESTABLISHED IN 1936 UNDER LEADERSHIP OF J.W. CALLIS FAMILY. JULY SERVICES INITIATED NEW CHURCH BUILDING AT S. SAM HOUSTON AND OLIVE STREETS. T.W. BURKE SERVED THREE YEARS AS FIRST PASTOR; HE RETURNED FROM 1947-1951 AND ORGANIZED RELOCATION TO 19TH AND JACKSON STREETS. PASTORING IN 1951-1965, W.H. MASSENGALE PRESIDED OVER MEMBERSHIP GROWTH AND CONSTRUCTION OF EXPANDED WORSHIP AND SUNDAY SCHOOL FACILITIES. J.T. PUGH STARTED AN 18-YEAR TENURE IN 1974, SUCCEEDED BY HIS SON, TERRY PUGH. UNDER THEIR STEWARDSHIP CHURCH PROPERTY GREW TO TWO CITY BLOCKS INCLUDING COMPLETION OF AN 1100-PERSON SANTUARY DEDICATED IN 1984. YOUTH AND RECREATIONAL FACILITY COMPLETED IN 1995.
NO. 28 &nbsp &nbsp &nbsp &nbsp HERITAGE OF ODESSA FOUNDATION &nbsp &nbsp &nbsp &nbsp 1995
---
Clear Page
updated: 9/20/98