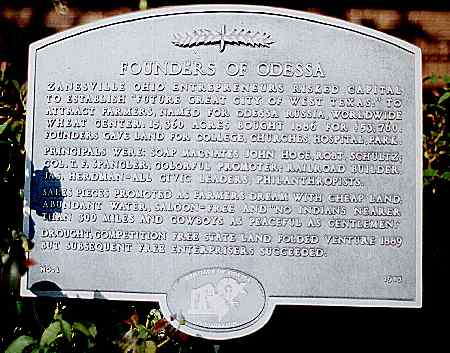 FOUNDERS OF ODESSA
ZANESVILLE OHIO ENTREPRENEURS RISKED CAPITAL TO ESTABLISH "FUTURE CREAT CITY OF WEST TEXAS." TO ATTRACT FARMERS, NAMED FOR ODESSA RUSSIA WORLDWIDE WHEAT CENTER, 15,360 ACRES BOUGHT 1886 FOR $53,760.00. FOUNDERS GAVE LAND FOR COLLEGE, CHURCHES, HOSPITAL, PARK.
PRINCIPALS WERE: SOAP MAGNATES JOHN HOGE, ROBERT SCHULTZ, COL. T.F. SPANGLER, COLORFUL PROMOTER, RAILROAD BUILDER JAMES HERDMAN - ALL CIVIC LEADERS, PHILANTHROPISTS.
SALES PIECES PROMOTED AS FARMERS DREAM WITH CHEAP LAND, ABUNDANT WATER, SALOON-FREE AND " NO INDIANS NEARER THAN 300 MILES AND COWBOYS AS PEACEFUL AS GENTLEMEN."
DROUGHT, COMPETITION FREE STATE LAND FOLDED VENTURE 1889, BUT SUBSEQUENT FREE ENTERPRISERS SUCCEEDED.
NO. 1 &nbsp &nbsp &nbsp &nbsp HERITAGE OF ODESSA FOUNDATION &nbsp &nbsp &nbsp &nbsp 1985
---
Marker located West of Martin Luther King Building on S.E corner of Second and Grant Street.
---
Clear Page
updated: 9/20/98