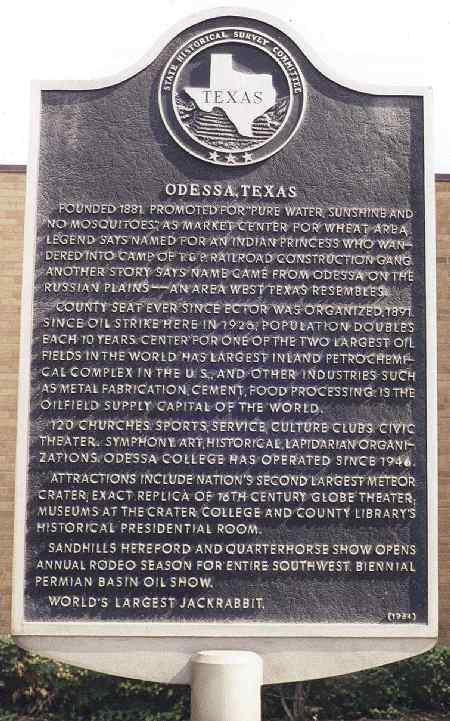 Historical Marker located North of City Hall reads:
ODESSA (Ector Co.) (now at City Hall) Odessa, Texas
Founded 1881. Promoted for "pure water, sunshine and no mosquitoes," as market center for wheat area. Legend says named for an Indian princess who wandered into camp of T. & P. Railroad construction gang. Another story says name came from Odessa on the Russian plains - an area West Texas resembles.
County seat ever since Ector was organized, 1891. Since oil strike here in 1926, population doubles each 10 years. Center for one of the two largest oil fields in the world. Has largest inland petrochemical complex in the U.S., and other industries such as metal fabrication, cement, food processing. Is the oilfield supply capital of the world.
143 churches. Sports, service, culture clubs, civic theater, symphony, art, historical, lapidarian organizations. Odessa College has operated since 1946.
Attractions include nation's second largest meteor crater; exact replica of 16th century Globe Theater; museums at the crater, college and county library's Historical Presidential Room. Sandhills Hereford and Quarterhorse Show opens annual rodeo season for entire Southwest. Biennial Permian Basin Oil Show. World's largest jackrabbit.
(1964)
---
Clear Page


updated: 9/13/98