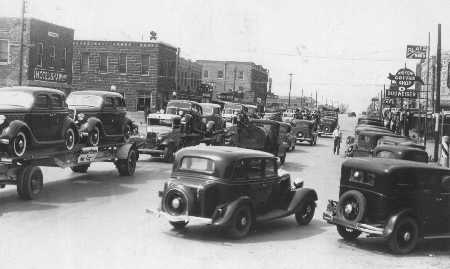 Looking north along Grant street at a parade of new Fords, 1935.

It was quite a day for the 2500 people living in Odessa and quite a day for Sewell ford when these 22 trucks rolled into town. The unexpected parade of brand new Fords saluted the opening of the Sewell Ford Dealership. It sure brought in the customers, with 11 new cars sold that very day.

In 1935, a new Ford would sell for between $695 and $1035 and you could buy a new pickup for even less; $635.00.

It's no wonder that Sewell Ford grew into the largest Ford dealership between Fort Worth and El Paso, considering the hours they kept. During the great oil boom in the early 1940s, Sewell Ford was open 24 hours a day, 7 days a week. Founder, Woody Sewell, remembers when they kept the service department open around the clock and lots of times we would sell new cars at 2 or 3 in the morning when the bars started closing and the men would come by and buy a new car on the spur of the moment.

[Pollard's comment]
This appears to be a Jack Nolan Photograph from the date & title. Most photos were taken on North Grant street because it was one of the very few paved streets. This was the Highway going North and South; whereas Hwy 80 was paved going East and West. Part of Texas Street was paved from Hwy 80 north to 4th Street. It was single lane on each side of the street, with dirt parking in the middle of the street. All other streets in Odessa were dirt surface. The Sewell Garage was on 2nd and Texas; a very favorable location. My first car in 1940 was a used Model B 4 door Sedan Ford purchased from Joe Wilson Garage, East Second Street [Highway 80] for $50.00 cash. It had a grabby clutch; but I sold it the next year for the same price.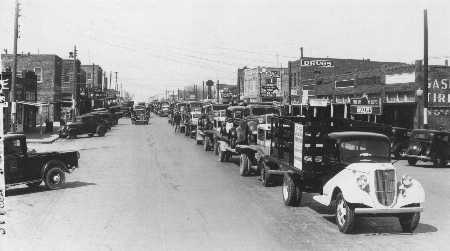 Another view of all those new fords headed for Sewell Ford of Odessa.

Courtesy, The Flavor of Odessa, 1891-1991.
and Ector County Library, South West History.

---
Clear Page
Last Updated: Saturday, April 29, 1998