Book Cover
"Flavor of Odessa" the book The cover shows Dorothy John Henry Wight with her grandmother Elmenia Wight from Maine. [ Identified by: Sarah Wight Schaper ].
Edited and annotated by Anne Sherburn; A project of the Heritage of Odessa Foundation.
Celebrating: 100 years! Ector County Centennial, 1891-1991
Library of Congress Catalog Card Number 91-072671
ACKNOWLEDGEMENTS:
This cookbook has truly been a labor of love, and not just mine but of all those involved. The Flavor of Odessa began in 1986 as a brain child of Grace King and Gem Meacham. It certainly has taken awhile to complete but after all, if Rome wasn't built in a day, Odessa's best recipes and history can not be compiled quickly either.
I want to thank each person who opened up their recipe box to share such delicious recipes along with their memories of Odessa. Your contributions have made this book a true treasure and an invaluable part of our community's efforts at historic preservation.
My special appreciation goes to the final working committee who I can't thank enough. Louise Henderson, Janell Lewallen, Kathleen Stout and Bessie Lou Doelling all became part of my family, spending hours and hours in my home proofreading, organizing, remembering, calling on friends, tracking down good recipes and most importantly believing in the importance of this project. It seem that one of the first things my little two year old son learned to say was "cookook lady".
None of this hard work would have meant very much without someone to type each and every recipe and history. Mr. Charlie Burgess went above and beyond the call of duty to Odessa when he agreed to type the cookbook. With lots of patience he diligently typed each recipe, using the old reliable two finger method. He never grumbled either when I brought him "just one more recipe".
The Presidential Museum allowed us to use their computer for the project. We thank their staff and Ector County Commissioners for this support.
Since a picture is worth a thousand words, we are all thankful for the able photography work of the Public Information Department at U.T. Permian Basin for assisting with the photographs which so beautifully bring our community's history alive.
I appreciate all of the professional assistance from the staff in the Southwest History Department of the Ector County Library and Bobbie Jean Klepper, archivist at U.T. Permian Basin. Because of their day to day commitment to historic preservation, we have a well documented and accessible set of resources to weave our local history from.
I also want to thank my loving family who believed that the Cookbook would get done and cheered me along when I thought it may never come to an end. Now that it is completed, I have no excuse not to prepare wonderful meals and neither do you.
Anne Sherburn, Editor "The Flavor of Odessa".
---
[from the book]

Send your order for another copy of your comments to:
The Heritage Of Odessa Foundation
Box 3908
Odessa, TX 79760
---
Note: This book is out of print. Where would you obtain a copy? To Purchase? probably none; however the Ector County Library has copies to read.

Outstanding book; I highly reccommend!
G. Pollard
Courtesy: The Flavor Of Odessa, 1891-1991; editor:Ann Sherburn.
The Heritage of Odessa Foundation.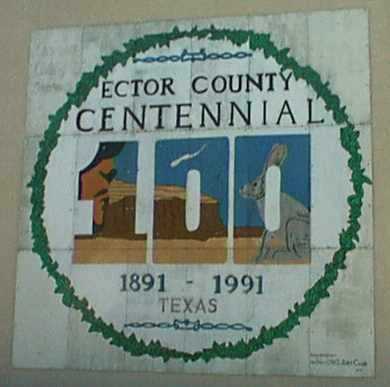 Watch for this mural down town on " south side of Noll Learning Center", 7th & Grant.