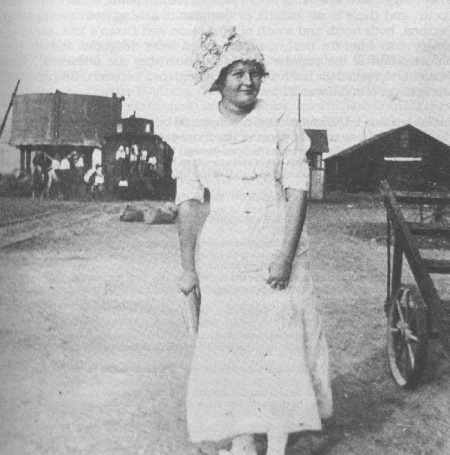 Emilie Pegues at the T & P Railroad Depot. in 1912. Odessa began in 1881 with Section House 163 built along the railroad tracks. But it wasn't long before not only Odessa grew, but the depot itself.

The original Station House was demolished by a tornado and quickly rebuilt. However by 1910, due to increased traffic. mostly from cattle, the station had to be expanded. In addition to offices, the new depot had a baggage room, two waiting rooms a freight room and a platform. The Expansion also included a "coal house, 14 stock pens, a galvanized water tank, a pump house, a section house, a Mexican house, a tool house and two double privies" according to the official T & P inventory list.


Courtesy: The Flavor Of Odessa, 1891-1991; editor:Ann Sherburn.
The Heritage of Odessa Foundation.
---
Clear Page
Updated: May 23, 1998