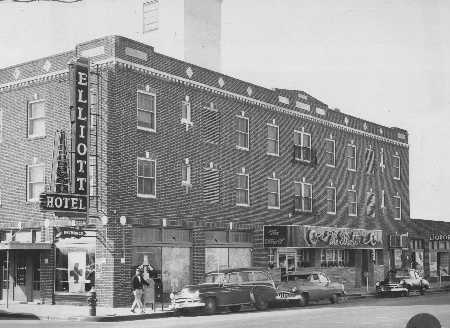 Completed in 1927, the Elliott Hotel was Odessa's first large brick building.

George W. Elliott, owner of the hotel that bears his name was quite a character. He knew how to get publicity for his business-like stopping prize fighter Jack Dempsey's train just long enough to have him ushered off to sign the hotel's guest register. Likewise he knew how to get attention for his political career.

It seem that he waited until the very last day to run against incumbent, O.E. Gerron for State representative. while rushing to cover the 13 county area, he found that an important sentence had been left out of his application. He placed a hurry-up call for two airplanes to enable him to file on time and was forced to drop his declaration by parachute at Fort Davis for lack of a landing field. Elliott always claimed, "I'm just a plain John Doe Citizen."

Courtesy, Permian Historical Society Collection.
& Ector County Library South West History.

---
Clear Page
Updated: May 4, 1998