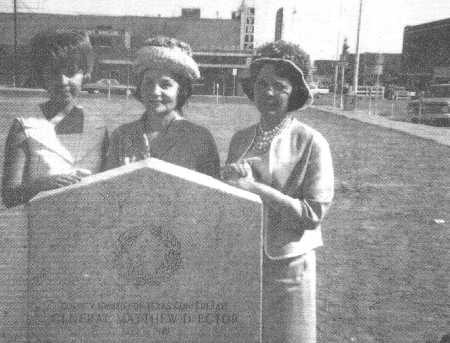 At Odessa Unveiling!
Pictured Saturday at Odessa, Texas, where they attended the unveiling of a Historical Marker of Matthew Duncan Ector, are (left to right) Jorja Jackson of Grand Prairie, Mrs. Vernon Jackson, Jorja's mother and great-great niece of Matthew Ector, and Mrs. Dail Boyd of Arlington, Mrs Jackson's sister.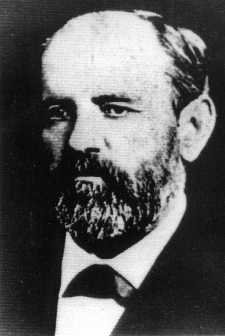 Grand Prairians Attends Unveiling
Mrs. Vernon Jackson, 202 Meyers Road, and Jorja attended the unveiling of a statue of Mrs. Jackson's great-great uncle at the Ector County Courthouse in Odessa, Saturday. Also attending was Mrs. Jackson's sister, Mrs. Dale Boyd of Arlington.
State officials including Governor Connally were expected for the unveiling ceremony.
The ocassion honored Matthew Ector, a Brigadier General in the 13th division of the Confederate Army. Ector county was also named for him.
Another nephew, Howard B. Ector, lives in Grand Prairie, but was unable to attend ceremonies.

Matthew Duncan Ector
Ector, Matthew Duncan (1822-1879) Born in Putnam County, Ga., February 28, 1822. Member of Georgia state legislature; member of Texas state legislature, 1855; general in the Confederate Army during the Civil War; Judge, Texas Court of Appeals, 1866-1879. Died October 29, 1879. Interment at Greenwood Cemetery, Marshall, Tex. Ector County, Tex. is named for him.
Note the Lyric Theatre and Elliott Hotel in the background.
[data is a reprint from the Grand Prairie Texas Newspaper. Date unknown]
Photograph courtesy of: Alto'n Rayanne Cain
Ft Walton, Florida [thank you]
---
ECTOR, MATHEW DUNCAN (1822-1879). Mathew Duncan Ector, Confederate general and judge, son of Hugh Walton and Dorothy (Duncan) Ector, was born in Putnam County, Georgia, on February 28, 1822, and raised in Merryweather County. He received his education at La Grange, Georgia, and Centre College in Danville, Kentucky. In 1841 he began studying law at Greenville, Georgia, under the supervision of Hiram B. Warner, a state Supreme Court justice, and was elected to one term in the state legislature. After marrying Louisa Phillips in 1842, Ector gave up the law and turned to farming for the next seven years. After his wife's death in 1848, he traveled to California for a brief period, returned briefly to his native state, and moved to Texas in 1850. He settled in Henderson and returned to the study of law under Judge William Wright Morris.qv In 1851 he was admitted to the bar, opened a law office in Henderson, and married Letitia M. Graham. In 1855 he became the editor of the Henderson Democrat and was elected to represent Rusk County in the Sixth Texas Legislature. Ector's second wife died in 1859.
At the beginning of the Civil Warqv he enlisted as a private in the Third Texas Cavalry and was shortly elected first lieutenant and appointed adjutant to the brigade commander, Gen. James L. Hogg.qv He saw combat with the Third Texas in the battles of Wilson's Creek, Missouri, Chustenahlah, Cherokee Nation, and Pea Ridge, Arkansas, before being promoted to colonel and command of the Fourteenth Texas Cavalry (dismounted). Ector was leading his men in the battle of Richmond, Kentucky, when he was promoted to brigadier general on August 23, 1862. He led his new command, known as Ector's Brigade, at Murfreesboro, Tennessee, before joining Joseph E. Johnstonqv in Mississippi in an attempt to relieve the Confederate garrison at Vicksburg. By September he had rejoined the Army of Tennessee in time to fight at Chickamauga, Georgia, where he received three slight wounds. His military career ended at Atlanta after he was wounded in the left leg on July 27, 1864, and the leg was amputated just below the knee. He was to have taken command of the Confederate forces at Mobile, Alabama, in 1865, but the war ended before he had recovered enough to assume those duties.
Ector married Sallie P. Chew of Mississippi in 1864 and in 1866 returned with her to Henderson, where he resumed his law practice and was elected district judge. He was removed in 1867 by Gen. Joseph J. Reynoldsqv for being a "Southern obstructionist." The following year he moved to Marshall and formed a law partnership with N. H. Wilson. He was appointed judge of the new Seventh District, and in 1875 he was elected to the Court of Appeals. The next year Ector's colleagues elected him presiding judge, a position he held until his death in Tyler on October 29, 1879. Ector was a member of the Methodist Church and is buried in Marshall. Ector County, established in 1874, was named in his honor.
BIBLIOGRAPHY: Biographical Encyclopedia of Texas (New York: Southern, 1880). Zachary T. Fulmore, History and Geography of Texas As Told in County Names (Austin: Steck, 1915; facsimile, 1935). Sidney S. Johnson, Texans Who Wore the Gray (Tyler, Texas, 1907). Southern Home Magazine, August 1897. Ezra J. Warner, Generals in Gray (Baton Rouge: Louisiana State University Press, 1959). Dorman H. Winfrey, A History of Rusk County (Waco: Texian, 1961).
David V. Stroud
SEARCH PAGE:
Webmaster
Updated 11/07/2003