Quoting from "Odessa City of Dreams": published in 1952
No story of progress would be complete without a record of the newspapers, which do so much to add to the advancement of a community. The earliest paper which old-timers have remembered was the Odessa Weekly News, established in 1895 by Billy Griffin, who had come here from Midland. It was discontinued in 1896. In 1904 one Claude Shelton started a short-lived paper which he called The Times.
In 1906 Jess Frame, according to his own account, helped J. H. Rotramel launch the Ector County Democrat. They were assisted by Charles Judkins and Miss Gertie Rabb. Also, Miss Annie Mae Harkey (later Mrs. Fred Malone) set type by hand for this paper. Occasionally a wandering printer would be hired. Such a one was Uncle Jimmy Phelps, 70 years old, with long flowing beard that gave him the appearance of Father Time.
The cornerstone of the 1904 courthouse held an issue of The Times carrying a brief history of Odessa and Ector County. At that time the modern, hip-roofed courthouse and McGonigle's two-story residence were Odessa's most imposing buildings.
Some of the stories in that issue told of cowboys getting lost as they drove their herds over the prairie, waiting for the train's smoke to guide them back to town.
In 1910 the Odessa Herald was started by Mrs. Ada Carter Johnson. This paper continued until 1922, when it closed after having earned a reputation worthy of pride in a typical Western sheet. These papers were all printed by the old hand-set type and run off by the hand-power press -- a far cry from the present modern machines.
In 1925 there was no paper being published in Odessa. Barney Hubbs, who was owner-publisher of the Pecos Enterprize, started a paper calleld The Ector County Times. Mr Hubbs bought two lots on the corner of Texas and Fourth Street for $29.00. He erected a small shop and later built a larger building around and over the old one without interrupting the publication of the weekly paper. Mr Hubbs sold to Abe Whipkey, who turned it over to his son, Bob, and son-in-law, Rusk Moody.
In 1929 Ralph Shuffler bought from the Whipkeys and he was succeeded by his son, Henderson Shuffler.
In 1948 the Freedom Newspapers, Inc., acquired the Odessa American and V.L. DeBolt was named publisher. a position he is still holding in 1951, as the Odessa American moves into its new commodious building at 222 East 4th Street.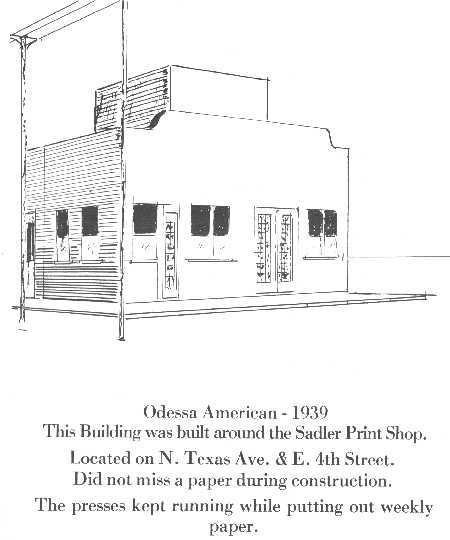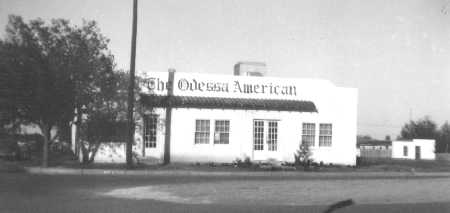 Actual Photograph taken around 1941 by Pearl Collins. Courtesy: Collins Drug Archives.
Courtesy, "E.B. Ribble Drawings of old Odessa"; & "Odessa, City of Dreams."