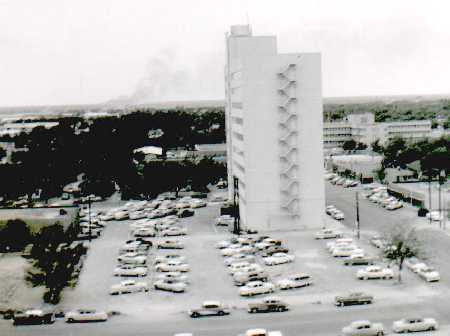 In the 1950's we called this tall building the "Phillips Building". It was built especially for Phillips Petroleum Co.

You can see the Medical Center Hospital in the background. The Phillips building fronts on 4th Street which is now blocked off in Hospital area and covered with a large complex of Medical Services.

The smoke on the horizon came from the Carbon Black Plant. It captured carbon from burning gas in metal buildings for many years. Many said it would harm the surroundings; but the mesquite bushes didn't mind at all. One benefit the smoke could be seen for many miles while flying an airplane in the area. The plants that were numerous in West Texas were good ground marks for navigation on cross country hops. There were carbon collection locations where the exhaust was captured; possibly with a wet solution and smoke was not visible.
Photo Courtesy: Fred Cordola.
Fred said "This photo was taken from the Inn of the Golden West possibly in 1958. He sent me many more taken from the same location. I hope you enjoy them as much as I. His father worked on the top floor of the Hotel so Fred documented lots of the city scenes from a prime location.

---
Clear Page


Updated: 02/08/2003