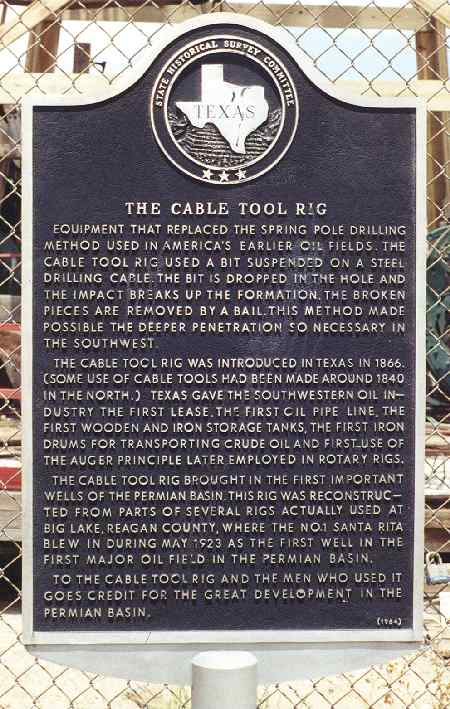 Historical Marker located South of cable tool rig.

ODESSA (Ector Co.) US 385 and 42nd St.
The Cable Tool Rig

Equipment that replaced the spring pole drilling method used in America's earlier oil fields. The cable tool rig used a bit suspended on a steel drilling cable. The bit is dropped in the hole and the impact breaks up the formation. The broken pieces are removed by a bail. This method made possible the deeper penetration so necessary in the Southwest.

The cable tool rig was introduced in Texas in 1866. (Some use of cable tools had been made around 1840 in the North.) Texas gave the Southwestern oil industry the first lease, the first oil pipe line, the first wooden and iron storage tanks, the first iron drums for transporting crude oil, and first use of the auger principle later employed in rotary rigs.

The cable tool rig brought in the first important wells of the Permian Basin. This rig was reconstructed from parts of several rigs actually used as Big Lake, Reagan County, where the No.1 Santa Rita blew in during May 1923 as the first well in the first major oil field in the Permian Basin. To the cable tool rig and the men who used it goes credit for the great development in the Permian Basin.
(1964)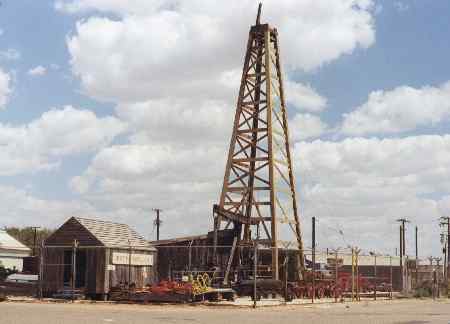 Located in fenced area on North East of Ector County Show Ground. This wooden structure has been ravaged by time and is being rebuilt completely with treated wood. Bill Palmer and David Roland were getting it ready for the International Oil Show of 1998.
---
Clear Page
updated: 9/21/98